Video ufficiali
5 Seconds Of Summer - Don't Stop (video ufficiale, testo e traduzione)
5 Seconds Of Summer - Don't Stop: guarda il video ufficiale e leggi testo e traduzione della canzone.
Dopo il video con le lyrics di "Don't Stop" è finalmente stato pubblicato anche quello ufficiale.
I 5 Seconds Of Summer vestono i panni di supereroi della quotidinità che puliscono il marciapiede dai rifiuti o aiutano le vecchiette ad attraversare.
La canzone fa parte dell'album di debutto della band australiana: "5 Seconds Of Summer" sarà disponibile dal 27 giugno 2014 e conterrà la hit che ha lanciato la band, "She Looks So Perfect".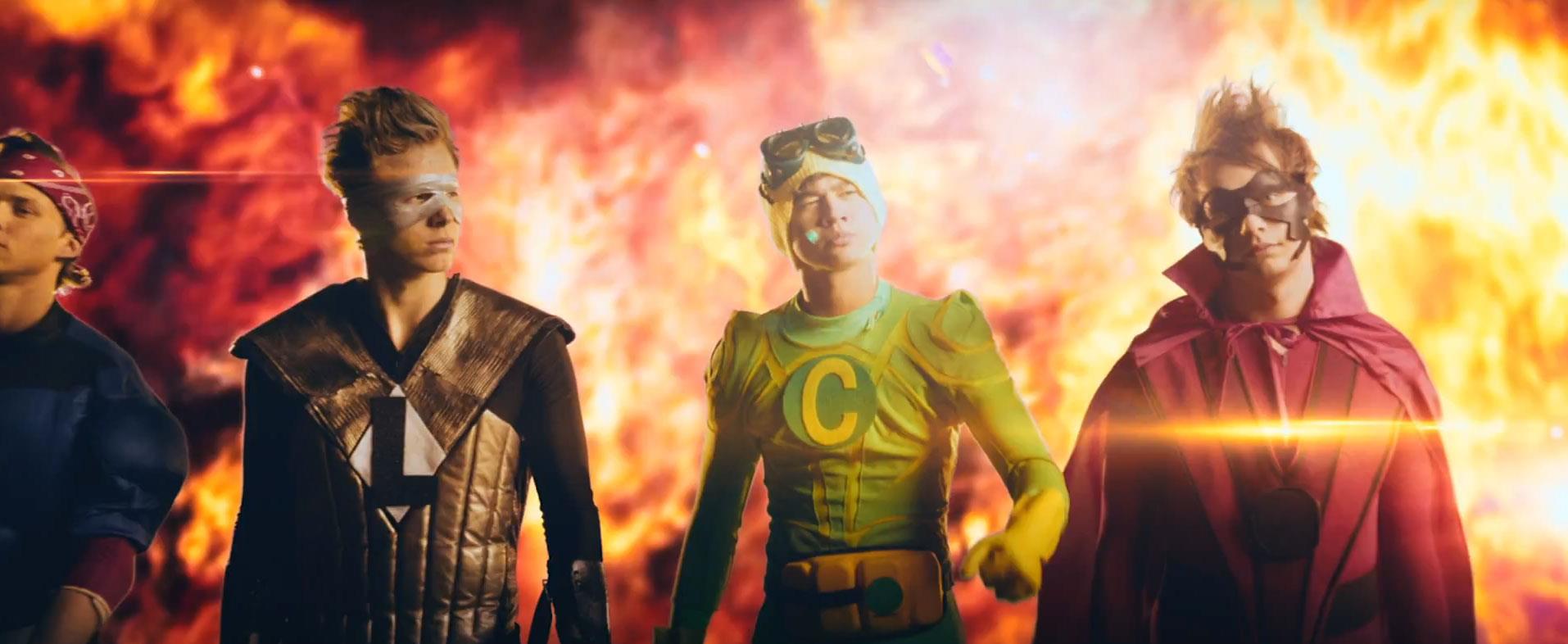 5 Seconds Of Summer - Don't Stop lyrics
You're like perfection, some kind of holiday
You got me thinking that we could run away
You want I'll take you there,
You tell me when and where,
Oh oh oh oh
But then I asked for your number,
Said you don't have a phone
It's getting late now
I gotta let you know
That everybody wants to take you home tonight
But I'm gonna find a way to make you mine
Don't stop doin' what you're doin'
Every time you move to the beat
It gets harder for me
And you know it, know it, know it
Don't stop 'cause you know that I like it
Every time you walk in the room
You got all eyes on you
And you know it, know it, know it
You're coming close now, swear I can taste it,
You got me tongue tied, I can't escape it
I'm loving what you got
But then you push me off
Oh oh oh oh
And everybody wants to take you home tonight
But I'm gonna find a way to make you mine
Don't stop doin' what you're doin'
Every time you move to the beat
It gets harder for me
And you know it, know it, know it
Don't stop 'cause you know that I like it
Every time you walk in the room
You got all eyes on you
And you know it, know it, know it
Every day it's the same love and games that you play
Back and forth, round and round, kinda like it this way
Don't stop doin' what you're doin'
'Cause every time you move to the beat
It gets harder for me
And you know it, know it, know it
Don't stop 'cause you know that I like it
Every time you walk in the room
You got all eyes on you
And you know it, know it, know it, know it
Don't stop (don't stop, stop what you're doing) doin' what you're doin'
'Cause you know that, you know that I like it
Every time you move to the beat
It gets harder for me
And you know it, know it, know it
Don't stop, 'cause you know that I like it (you know that I like it)
Every time you walk in the room
You got all eyes on you
And you know it, know it, know it
5 Seconds Of Summer - Don't Stop traduzione
Assomigli alla perfezione, una sorta di vacanza,
mi hai fatto credere che potevamo scappare lontano
Tu lo vuoi, ti porterò là,
Dimmi solo quando e dove,
Oh oh oh oh
Ma poi ti ho chiesto il numero,
mi hai detto che non hai un telefono
si sta facendo tardi ora,
Ti devo dire che
Tutti vogliono accompagnarti a casa stasera
ma troverò un modo per farti mia
Non smettere di fare quello che stai facendo
tutte le volte che ti muovi seguendo il ritmo
diventa sempre più difficile per me
e tu lo sai, lo sai, lo sai
Non fermarti perchè sai che mi piace
tutte le volte che entri nella stanza
hai tutti gli occhi su di te
e tu lo sai, lo sai, lo sai
Ti stai avvicinando ora, ti giuro che riesco a gustarlo
mi hai intrappolato, non posso fuggire
mi piace ciò che hai
ma poi mi mandi via
Oh oh oh oh
Tutti vogliono accompagnarti a casa stasera
ma troverò un modo per farti mia
Non smettere di fare quello che stai facendo
tutte le volte che ti muovi seguendo il ritmo
diventa sempre più difficile per me
e tu lo sai, lo sai, lo sai
Non fermarti perchè sai che mi piace
tutte le volte che entri nella stanza
hai tutti gli occhi su di te
e tu lo sai, lo sai, lo sai
Tutti i giorni è sempre la stessa storia
avanti ed indietro, giriamo in tondo ma mi va bene così
Non smettere di fare quello che stai facendo
tutte le volte che ti muovi seguendo il ritmo
diventa sempre più difficile per me
e tu lo sai, lo sai, lo sai
Non fermarti perchè sai che mi piace
tutte le volte che entri nella stanza
hai tutti gli occhi su di te
e tu lo sai, lo sai, lo sai, lo sai
Non smettere di fare quello che stai facendo
tutte le volte che ti muovi seguendo il ritmo
diventa sempre più difficile per me
e tu lo sai, lo sai, lo sai
Non fermarti perchè sai che mi piace
tutte le volte che entri nella stanza
hai tutti gli occhi su di te
e tu lo sai, lo sai, lo sai
Iscriviti alla newsletter di AllSongs
Riceverai i nostri aggiornamenti anche via email, è semplicissimo!

Iscrivendoti acconsenti alle condizioni d'uso di AllSongs