Nuove Uscite
Ariana Grande, Gwen Stefani e altri per l'album di cover di classici Disney
La raccolta, che si intitola "We Love Disney", è stata leakkata un mese prima dell'uscita ed è già possibile ascoltare "Zero To Hero" cantata da Ariana Grande. Edit: la canzone purtroppo è stata rimossa.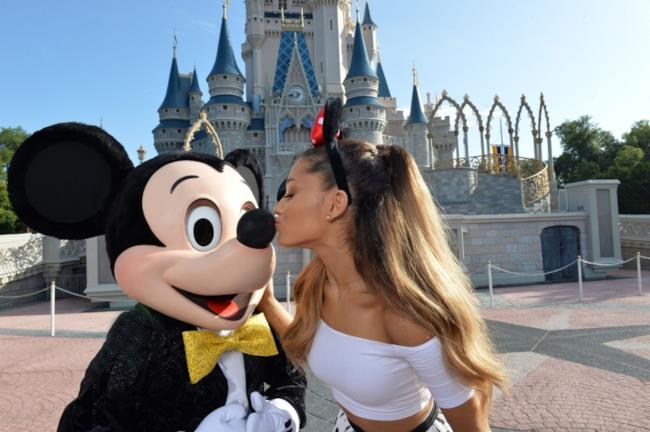 "We Love Disney" è il terzo album dell'omonima serie e uscirà il 30 ottobre 2015. Ma qualcuno ha pensato di entrare nel castello delle fiabe Disney per rubarlo e metterlo online prima della pubblicazione.
La società ha assunto alcune delle migliori popstar del mondo - tra cui Ariana Grande e Gwen Stefani - per realizzare una cover di alcuni dei loro successi più popolari.
Tuttavia il disco è stato leakkato, cioè è trapelato online un mese prima della sua uscita ufficiale, per cui ad esempio è già possibile ascoltare qui sotto "Zero To Hero" - la canzone di Hercules - interpretata da Ariana Grande.
Edit: Purtroppo Disney si è mossa in fretta e ha cancellato la canzone dalla rete...finché qualcuno non la ricaricherà. Ecco intanto l'audio della canzone che Ariana ha condiviso coi suoi fan sui social, registrato in auto.
si è cimentata con La sirenetta, con Il Re Leone, con Aladdin, Gwen Stefani con The Muppet Movie e i Fall Out Boy con Il libro della giungla.
La tracklist è composta da 13 tracce nell'edizione standard, mentre la deluxe ne conterrà due in più: "It's Not Easy Being Green" di Brenna Whitaker (da The Muppet Shows) e "A Whole New World" di Yuna (da Aladdin).
We Love Disney Tracklist
Friend Like Me (da Aladdin) - Ne-Yo
Part of Your World (da La sirenetta) - Jessie J
Can You Feel the Love Tonight / Nants Ingonyama (da Il re leone) - Jason Derulo
The Rainbow Connection (da The Muppet Movie) - Gwen Stefani
Zero to Hero (da Hercules) - Ariana Grande
In a World of My Own / Very Good Advice (da Alice nel Paese delle meraviglie) - Jhené Aiko
I Wan'na Be Like You (The Monkey Song) (da Il libro della giungla) - Fall Out Boy
Colours of the Wind (da Pocahontas) - Tori Kelly
Spoonful of Sugar (da Mary Poppins) - Kacey Musgraves
Ev'rybody Wants to Be a Cat (da Gli Aristogatti) - Charles Perry
A Dream Is a Wish Your Heart Makes (da Cenerentola) - Jessie Ware
Let It Go (da Frozen) - Rascal Flatts & Lucy Hale
It's a Small World - We Love Disney Artists
Iscriviti alla newsletter di AllSongs
Riceverai i nostri aggiornamenti anche via email, è semplicissimo!

Iscrivendoti acconsenti alle condizioni d'uso di AllSongs