Nuove Uscite
Ariana Grande super sexy nel video ufficiale di Focus
La cantante italo-americana, nonostante abbia soltanto 22 anni, sta diventando una vera donna, sempre più sensuale e ammiccante: insomma una vera star!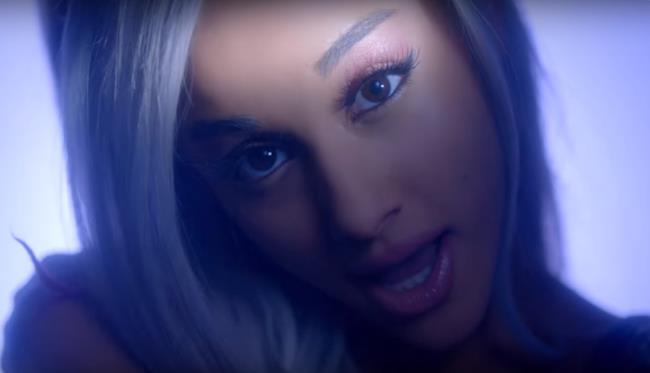 Dopo anteprime, preview, teaser e snippet vari, è finalmente arrivato il giorno che tutti gli Arianators stavano aspettando: oggi 30 ottobre Ariana Grande ha pubblicato il suo nuovo singolo Focus.
La popstar aveva fatto partire un conto alla rovescia su Twitter ma non è riuscita a resistere e un'ora prima del previsto ha scritto ai suoi oltre 33 milioni di followers: "Sorpresa!!!! Eccolo qui!!!!".
Surprise !!!! it's here!!!! My new single #Focus is now available on @iTunes / @AppleMusic ~ https://t.co/oLIm838L55 pic.twitter.com/hBcs0casb1

— Ariana Grande (@ArianaGrande) October 30, 2015
Focus è già disponibile per l'acquisto su iTunes - l'hashtag #BuyFocusOniTunes è subito finito in cima ai trending topic di Twitter, ma girano anche #Focus e #FocusVideo - e per l'ascolto in streaming su Apple Music e Spotify.
Ad annunciare l'uscita del video su VEVO e YouTube è stato questo tweet della cantante, che ha subito ricevuto i complimenti da parte della collega e amica Demi Lovato ("you look GORGEOUS and sound amazing in your new vid"), oltre che di Colleen Evans e Chrysanthe Tan.
and last but not least.... the #FocusVideo is now on @VEVO ~ https://t.co/WmrQXgW14j pic.twitter.com/0mrKa0mfqZ

— Ariana Grande (@ArianaGrande) October 30, 2015
Il video è firmato da Hannah Lux Davis, che ha già lavorato a Bang Bang con Jessie J e Nicki Minaj e Love Me Harder con The Weeknd. Il brano, prodotto da Max Martin e scritto da Ariana con Savan Kotecha, è il primo singolo estratto dal nuovo album Moongliht, in uscita nel 2016.
La cantante festeggerà Halloween e l'uscita del suo nuovo singolo sul palco dell'iHeartRadio Theater di Los Angeles. La sua performance sarà visibile in tutto il mondo su iHeartRadio.com/HondaStage e segnerà il debutto live di Focus.
Guarda qui sotto il video ufficiale, a seguire il testo della canzone.
Ariana Grande - Focus lyrics
[Intro]
Hey

[Verse 1]
I know what I came to do
And that ain't gonna change
So go ahead and talk your talk
Cause I won't take the bait
I'm over here doing what I like
I'm over here working day and night
And if my real ain't real enough
I'm sorry for you, bae

[Pre-Hook]
Let's find a light inside our universe now
Where ain't nobody keep on holding us down
Just come and get it, let them say what they say
Cause I'm about to put them all away

[Hook]
Focus on me, f-f-focus on me
Focus on me, f-f-focus on me
Focus on me (Focus), f-f-focus on me (Focus on me)
Focus on me (Focus), f-f-focus on me (Focus on me)

[Verse 2]
I can tell you're curious
It's written on your lips
Ain't no need to hold it back
Go 'head and talk your shit
I know you're hoping that I'll react
I know you're hoping I'm looking back
But if my real ain't real enough
Then I don't know what is

[Pre-Hook]
Let's find a light inside our universe now
Where ain't nobody keep on holding us down
Just come and get it, let them say what they say
Cause I'm about to put them all away

[Hook]
Focus on me, f-f-focus on me
Focus on me, f-f-focus on me
Focus on me (Focus), f-f-focus on me (Focus on me)
Focus on me (Focus), f-f-focus on me (Focus on me)

[Breakdown]
1, 2, 3, c'mon girls
You're gonna like it
Come on, now, now

[Pre-Hook]
Let's find a light inside our universe now
Where ain't nobody keep on holding us down
Just come and get it, let them say what they say
Cause I'm about to put them all away

[Hook]
Focus on me, f-f-focus on me
Focus on me, f-f-focus on me
Focus on me (Focus), f-f-focus on me (Focus on me)
Focus on me (Focus), f-f-focus on me (Focus on me)
Focus on me, f-f-focus on me
Focus on me, f-f-focus on me
Focus on me (Focus), f-f-focus on me (Focus on me)
Focus on me (Focus), f-f-focus on me (Focus on me)
Iscriviti alla newsletter di AllSongs
Riceverai i nostri aggiornamenti anche via email, è semplicissimo!

Iscrivendoti acconsenti alle condizioni d'uso di AllSongs