Nuove Uscite
Austin Mahone in costume nel nuovo video Put It On Me
Vuoi sapere come passa il suo tempo libero Austin Mahone? Di certo non come un normale 20enne italiano, visto che il video è stato girato a Miami Beach!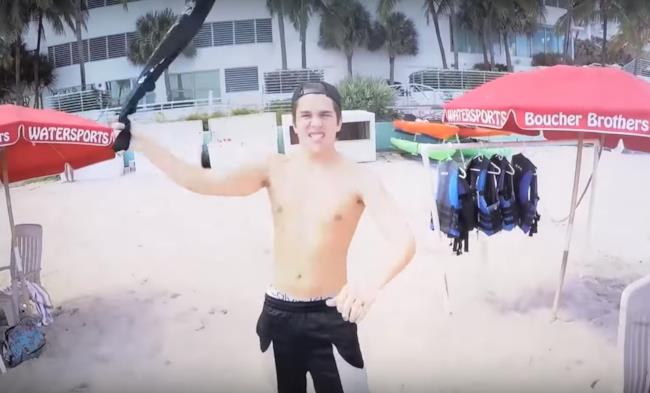 Povero , costretto a realizzare i suoi video musicali da solo con una telecamera GoPro che molto probabilmente ha comprato con i suoi soldi! Dove sono finite YMCM e Republic Records?
Il cantante del Texas, che è ancora sotto contratto con le sopracitate etichette, negli ultimi mesi ha pubblicato qualche nuova canzone su SoundCloud - tra l'altro in download gratuito - e per il momento non c'è nessuna novità sul suo album di debutto.
L'ultimo brano caricato si intitola "Put It On Me", di cui abbiamo già parlato qui, e vede la collaborazione del rapper Sage the Gemini. Purtroppo non si tratta di un nuovo singolo, come speravano le Mahomies, e non ci sarà alcun tipo di promozione.
Anche il video è a basso budget, considerato che è girato da lui senza alcun supporto, eccetto i suoi amici. Ma dalla sua parte ha il sole della Florida, le palme di Miami Beach e un hotel di lusso.
Insomma arrivare in spiaggia e passare tutta la giornata su una moto d'acqua non è poi così male. Forse il momento più difficile è far finta di rappare i versi di Sage the Gemelli, che non appare nel video.
Alla fine Austin tenta anche di fare una capriola sulla sabbia: gli riesce abbastanza bene, anche se l'atterraggio non è dei migliori. Per fortuna non si è rotto niente...
Guarda qui sotto il video di Put It On Me, a seguire il testo della canzone.
Austin Mahone - Put It On Me lyrics
Austin Mahone
I don't wanna leave here without ya, I want you to know
All night I've been thinking about ya, so if you ready to go
Baby come on my way, I can tell by the look that's all on your face
You want it too

Austin Mahone
But you can't around me, you don't know what you started
You know what I need, a night alone with your body
Put it on me, p-put it on me, p-put it on me
Put it on me, put it on me, p-put it on me, p-put it on me

Austin Mahone
Can't help myself, girl I wanna feel on it, back it up on me
And you can tell how bad I want it, I wanna like you on me
Baby come on my way, I can tell by the look that's all on your face
You want me too

Austin Mahone
But you can't around me, you don't know what you started
You know what I need, a night alone with your body
Put it on me, p-put it on me, p-put it on me
Put it on me, put it on me, p-put it on me, p-put it on me

Sage the Gemini
I feel like it's time already
I feel like you made up your mind already
Your ex feeding you lies, got you fed up
Time to cross him out like the sign on Chevy
Me and you in the Coupe, I feel like all leather
I bring sand to the beach cause my sand better
You ex tryna joke cause we pull up on floss
Last time someone jump, I had Kris get Kross'ed
Where I'm from, kinda scared to have it
I be tryna get the number and forget I have it
That's a shame, I don't wanna do the games
You the one, I couldn't call you the main

Austin Mahone
But you can't around me, you don't know what you started
You know what I need, a night alone with your body
Put it on me, p-put it on me, p-put it on me
Put it on me, put it on me, p-put it on me, p-put it on me
Iscriviti alla newsletter di AllSongs
Riceverai i nostri aggiornamenti anche via email, è semplicissimo!

Iscrivendoti acconsenti alle condizioni d'uso di AllSongs