News & Gossip
Tom Cruise canta Guns N' Roses, Bon Jovi, Def Leppard e Scorpions nel film Rock of Ages
'Rock of Ages' è la storia d'amore di Sherrie e Drew, ma soprattutto un film corale dove anche Tom Cruise si cimenta in classici del rock come Guns N' Roses, Bon Jovi e Def Leppard.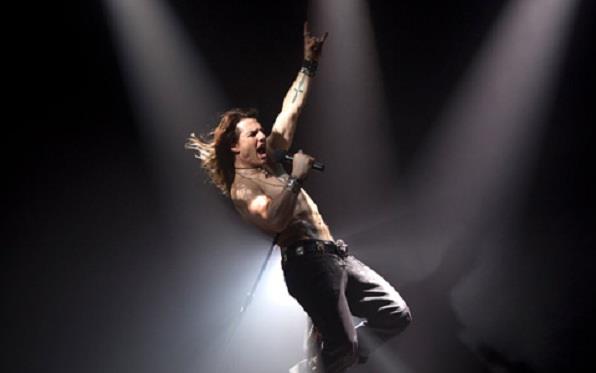 Tom Cruise fa parte del cast di "Rock of Ages", il film diretto da Adam Shankman e incentrato sull'incontro tra Sherrie, una ragazza del Kansas che arriva a Los Angeles in cerca di fortuna e Drew, un ragazzo che sogna di diventare una rock star.
La pellicola, tratta dall'omonimo musical di Brodaway, uscirà nelle nostre sale cinematografiche a fine giugno e, a fianco dell'attore statunitense, ci saranno anche Mary J. Blige, Alec Baldwin, Paul Giamatti e Catherine Zeta-Jones.
Qui sotto trovate in anteprima un medley con alcune canzoni della colonna sonora di "Rock of Ages", dove Tom Cruise canta Guns N' Roses, Bon Jovi, Def Leppard e Scorpions. Ce lo vedete il bel Tom con i capelli lunghi e pieno di tatuaggi?
Ecco la tracklist completa della colonna sonora:
"Paradise City" - Guns N' Roses (Tom Cruise)
"Sister Christian/Just Like Paradise/Nothin' But A Good Time" - Night Ranger & David Lee Roth & Poison (Julianne Hough, Diego Boneta, Russell Brand, Alec Baldwin)
"Juke Box Hero/I Love Rock 'n' Roll" - Foreigner & Joan Jett & the Blackhearts (Diego Boneta, Alec Baldwin, Russell Brand, Julianne Hough)
"Hit Me With Your Best Shot" - Pat Benatar (Catherine Zeta-Jones)
"Waiting For A Girl Like You" - Foreigner (Diego Boneta & Julianne Hough)
"More Than Words/Heaven" – Extreme & Warrant (Julianne Hough & Diego Boneta)
"Wanted Dead Or Alive" - Bon Jovi (Tom Cruise & Julianne Hough)
"I Want To Know What Love Is" - Foreigner (Tom Cruise & Malin Akerman)
"I Wanna Rock" - Twisted Sister (Diego Boneta)
"Pour Some Sugar On Me" - Def Leppard (Tom Cruise)
"Harden My Heart" - Quarterflash (Julianne Hough & Mary J. Blige)
"Shadows Of The Night/Harden My Heart - Pat Benatar & Quarterflash (Mary J. Blige & Julianne Hough)
"Here I Go Again" - Whitesnake (Diego Boneta, Paul Giamatti, Julianne Hough, Mary J. Blige, Tom Cruise)
"Can't Fight This Feeling" - REO Speedwagon (Russell Brand & Alec Baldwin)
"Any Way You Want It" - Journey (Mary J. Blige, Constantine Maroulis, Julianne Hough)
'Undercover Love' - canzone inedita (Diego Boneta)
"Every Rose Has Its Thorn" - Poison (Julianne Hough, Diego Boneta, Tom Cruise, Mary J. Blige)
"Rock You Like a Hurricane" - Scorpions (Julianne Hough & Tom Cruise)
"We Built This City/We're Not Gonna Take It" - Jefferson Starship & Twisted Sister (Russell Brand & Catherine Zeta-Jones)
"Don't Stop Believin'" - Journey (Julianne Hough, Diego Boneta, Tom Cruise, Alec Baldwin, Russell Brand, Mary J. Blige)
Ti potrebbe interessare anche:
Iscriviti alla newsletter di AllSongs
Riceverai i nostri aggiornamenti anche via email, è semplicissimo!

Iscrivendoti acconsenti alle condizioni d'uso di AllSongs