Classifica Italia 24 luglio 2014: Kiesza al numero uno con Hideaway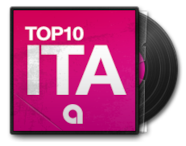 Nella classifica musicale di questa settimana i Dear Jack sono sempre primi fra gli album, mentre Kiesza raggiunge la Top 10 dei singoli con "Hideaway".
Nella classifica FIMI dei dischi più venduti in Italia dal 14 al 20 luglio 2014 il podio rimane identico a sette giorni fa: domina "Domani è un altro film" dei Dear Jack seguito da "Ghost Stories" dei Coldplay e da "5 Seconds of Summer" dei 5SOS.
In quarta posizione sale di un gradino "L'amore comporta" di Biagio Antonacci, così come l'omonimo disco della vincitrice di Amici 13 "Deborah Iurato". Rimane stabile al sesto posto "Mondovisione" di Ligabue, mentre perde tre posizioni "x" (si legge "multiply") di Ed Sheeran.
A chiudere la classifica album ci sono "Racine carrée" di Stromae, la nuova entrata "Mercurio" di Emis Killa e "Tempo reale" di Francesco Renga.
Fra i singoli più venduti c'è invece un cambio di vetta: "Hideaway" di Kiesza (si legge "caisa"), che la settimana scorsa avevamo messo nei possibili tormentoni dell'estate 2014, scala la classifica passando dalla decima alla prima posizione.
Medaglia d'argento è "A Sky Full of Stars" dei Coldplay, seguito da "Summer" di Calvin Harris e "Il mio giorno più bello nel mondo" di Francesco Renga. In discesa "Waves (Robin Schulz Remix)" di Mr. Probz, così come l'ex numero uno "Maracanã" di Emis Killa, che scivola addirittura al sesto posto.
"Splendida ostinazione" di Marco Carta è stabile in settima posizione, ma deve vedersela con "Try" di P!nk, che è rientrata in classifica grazie alla pubblicità di X Factor 8 con Virginia Veronesi.
A chiudere la Top 10 delle canzoni ci sono "Lasciami entrare" di Valerio Scanu e la nuova entrata "Chamber" di Lenny Kravitz.
FIMI - Classifica album più venduti (14 luglio - 20 luglio 2014)
Domani è un altro film - Dear Jack
Ghost Stories - Coldplay
5 Seconds of Summer - 5 Seconds of Summer
L'amore comporta - Biagio Antonacci
Deborah Iurato - Deborah Iurato
Mondovisione - Ligabue
X - Ed Sheeran
Racine carrée - Stromae
Mercurio - Emis Killa
Tempo reale - Francesco Renga
FIMI - Classifica singoli più venduti (14 luglio - 20 luglio 2014)

Hideaway - Kiesza
A Sky Full of Stars - Coldplay
Summer - Calvin Harris
Il mio giorno più bello nel mondo - Francesco Renga
Waves (Robin Schulz Remix) - Mr. Probz
Maracanã - Emis Killa
Splendida ostinazione - Marco Carta
Try - P!nk
Lasciami entrare - Valerio Scanu
The Chamber - Lenny Kravitz
Classifica Italia 24 luglio 2014: Kiesza al numero uno con Hideaway