Classifica UK 7 luglio 2014: Ariana Grande prima con Problem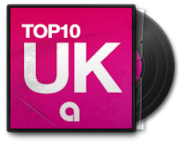 Dopo aver scalato la classifica americana Ariana Grande conquista anche quella inglese piazzandosi in cima alla chart del 7 luglio 2014 con la sua "Problem".
Debutta direttamente al primo posto della classifica UK del 7 luglio 2014 "Problem" di Ariana Grande e Iggy Azalea, che già da sei settimane domina il podio nella top 10 dei singoli più venduti in America.
Questa settimana sono presenti, oltre alla numero uno, anche altre tre new entry: sono "Chandelier" di Sia al sesto posto, "A Sky Full Of Stars" dei Coldplay al nono e "Make U Bounce" di Dj Fresh, TC e Little Nikki al decimo. Lasciano la top 10 invece "One More Day (Stay With Me)" degli Example, "Wiggle" di Jason Derulo e Snoop Dogg, "All Of Me" di John Legend e "Good Kisser" di Usher.
Solo Ella Henderson si mantiene stabile in seconda posizione con "Ghost" mentre George Ezra è l'unico a salire di due gradini con "Budapest" passando dalla quinta alla terza.
Tutte le altre canzoni della chart inglese perdono punti rispetto a sette giorni fa: "Sing" di Ed Sheeran scende dal terzo al quarto posto, "Gecko (Overdrive)" di Oliver Heldens e Becky Hill dal primo al quinto, "Stay With Me" di Sam Smith dal sesto al settimo e "Waves" di Mr. Probz dal settimo all'ottavo.
Classifica UK 7 luglio 2014
Problem - Ariana Grande feat. Iggy Azalea
Ghost - Ella Henderson
Budapest - George Ezra
Sing - Ed Sheeran
Gecko (Overdrive) - Oliver Heldens & Becky Hill
Chandelier - Sia
Stay With Me - Sam Smith
Waves - Mr. Probz
A Sky Full Of Stars - Coldplay
Make U Bounce - Dj Fresh vs. TC feat. Little Nikki
Classifica UK 7 luglio 2014: Ariana Grande prima con Problem