Nuove Uscite
Coldplay, guarda il video ufficiale di Adventure of a Lifetime: scimmiesco!
I Coldplay diventano scimmie nel video di Adventure of a Lifetime, il singolo che anticipa il nuovo album A Head Full Of Dreams in uscita il 4 dicembre.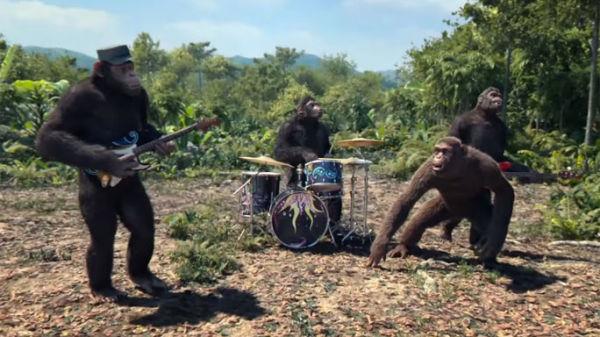 Oggi (27 novembre 2015) i Coldplay hanno pubblicato in anteprima sulla propria pagina Facebook il video ufficiale del loro nuovo singolo Adventure of a Lifetime.
Si tratta del primo brano estratto dal loro settimo album in studio A Head Full Of Dreams, in uscita il 4 dicembre, in cui ci sarà anche la voce di Barack Obama con un featuring piuttosto originale.
Il video musicale, diretto da Mat Whitecross, è un corto d'animazione. Certo, a prima vista potrebbero sembrare solo scimmie in mezzo alla giungla, ma dietro di loro si nascondono i membri della band.
Come Andy Serkis ne Il Signore degli Anelli per il ruolo di Gollum/Smeagol, e soci hanno creato i movimenti davanti al blue screen, che poi sono stati trasferiti sui personaggi con la computer graphic.
L'ambientazione è a metà strada fra 2001:Odissea nello spazio e Il pianeta delle scimmie. I primati, infatti, trovano un altoparlante Beats che diffonde il nuovo singolo dei Coldplay e, pur non capendo cos'è, si mettono a ballare.
Ci sono coreografie sincronizzate e improvvisati passi di danza, addirittura alcune scimmie si mettono a suonare con strumenti musicali trovati lì per caso. E alla fine c'è un gigantesco flash mob scimmiesco!
Guarda qui sotto il video, a seguire il testo della canzone.
Coldplay - Adventure Of A Lifetime lyrics
Turn your magic on, to me she'd say
Everything you want's a dream away
We are legends, every day
That's what she told him
Turn your magic on, to me she'd say
Everything you want's a dream away
Under this pressure, under this weight
We are diamonds

I feel my heart beating
I feel my heart underneath my skin
I feel my heart beating
Oh, you make me feel
Like I'm alive again
Alive again
Oh, you make me feel
Like I'm alive again

Said I can't go on, not in this way
I'm a dream, I die by light of day
Gonna hold up half the sky and say
Oh, we are omen

I feel my heart beating
I feel my heart underneath my skin
Oh, I can feel my heart beating
Cause you make me feel
Like I'm alive again
Alive again
Oh, you make me feel
Like I'm alive again

Turn your magic on, to me she'd say
Everything you want's a dream away
Under this pressure, under this weight
We are diamonds taking shape
We are diamonds taking shape
(Woo, woo)

If we've only got this life
Then this adventure, more than I
And if we've only got this life
You'll get me through alive
And if we've only got this life
Then this adventure, more than I
Wanna share with you
With you
With you
I said, oh, say oh

(Woo hoo, woo hoo)
(Woo hoo, woo hoo)
(Woo hoo, woo hoo)
(Woo hoo, woo hoo)
(Woo hoo, woo hoo)
(Woo hoo, woo hoo)
(Woo hoo, woo hoo)
(Woo hoo, woo hoo)
(Woo hoo, woo hoo)
(Woo hoo, woo hoo)
(Woo hoo, woo hoo)
(Woo hoo, woo hoo)
Iscriviti alla newsletter di AllSongs
Riceverai i nostri aggiornamenti anche via email, è semplicissimo!

Iscrivendoti acconsenti alle condizioni d'uso di AllSongs