Nuove Uscite
Eddie Vedder, il disco solista "Ukulele songs" arriva il 31 maggio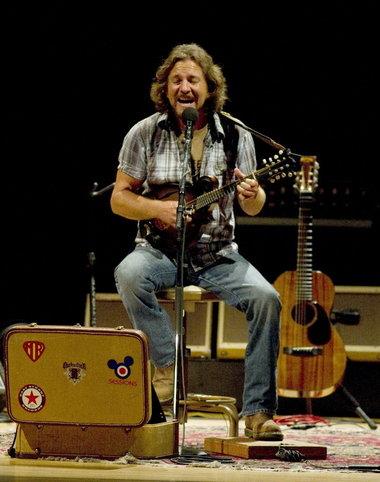 "Ukulele songs" secondo disco solista di Eddie Vedder, arriverà il prossimo 31 maggio. L'album del frontman dei Pearl Jam è stato annunciato ufficialmente sul sito della band. "Ukulele songs", infatti, uscirà per l'etichetta del gruppo di Seattle, la Monkeywrench Records.
Come si intuisce dal nome, "Ukulele songs" è composto da 16 canzoni di Vedder, accompagnato solo da un ukulele. Il primo singolo, Longing to belong, è già disponibile online da ieri.
Nel disco ci sono anche delle collaborazioni importanti: assieme a Vedder in Sleepless nights canta anche Glen Hansard, vocalist di Frames e Swell Season, mentre la voce di Cat Power partecipa a Tonight you belong to me.
Assieme ad "Ukulele songs" nei negozi arriverà "Water on the road", un DVD live che ripercorre il tour solista di Vedder del 2008. Le riprese, curate da batterista dei Fugazi Brendan Canty, sono state girate il 16 e 17 agosto, in occasione dell'esibizione di Vedder al Warner Theatre di Washington.
Questa la tracklist di "Ukulele songs":

1 - Can't Keep
2 - Sleeping by Myself
3 - Without You
4 - More Than You Know
5 - Goodbye
6 - Broken Heart
7 - Satellite
8 - Longing to Belong
9 - Hey Fahkah
10 - You're True
11 - Light Today
12 - Sleepless Nights (con Glen Hansard)
13 - Once in Awhile
14 - Waving Palms
15 - Tonight You Belong to Me (con Cat Power)
16 - Dream a Little Dream


Questi, invece, sono i brani contenuti in "Water on the road":

1 - The Canyon
2 - Sometimes
3 - Trouble
4 - Around the Bend
5 - Girl From the North Country
6 - Guaranteed
7 - Setting Forth
8 - Far Behind
9 - No Ceiling
10 - Rise
11 - Golden State
12 - Society
13 - Forever Young
14 - Ed Piano
15 - I'm Open
16 - Man of the Hour
17 - Driftin'
18 - No More
19 - You're True
20 - Ukulele Interlude
21 - Unthought Known
22 - Arc
23 - Hard Sun
24 - The Canyon (reprise)
Ti potrebbe interessare anche:
Iscriviti alla newsletter di AllSongs
Riceverai i nostri aggiornamenti anche via email, è semplicissimo!

Iscrivendoti acconsenti alle condizioni d'uso di AllSongs