News & Gossip
Grammy Awards 2013: tra i vincitori Gotye, fun., Black Keys e Mumford & Sons
I Grammy Awards 2013 passeranno alla storia. A spartirsi i premi non sono state le solite popstar, ma gente che arriva dal folk/rock. Ecco vincitori e vinti.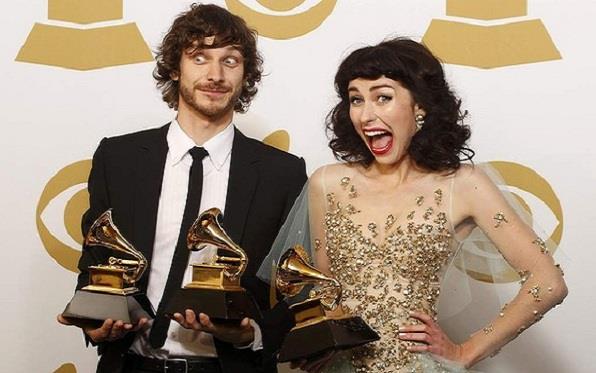 Che cosa è successo ai Grammy Awards 2013? Noi di AllSongs vi avevamo proposto la diretta streaming dell'evento, ma per chi non avesse fatto nottata ecco un breve riassunto dei vincitori.
Per quanto ci riguarda questa edizione potrebbe passare alla storia come l'anno del rock e del folk, ma anche come la riscossa degli uomini (tra le donne premi soltanto per Rihanna, Taylor Swift, Carrie Underwood, Kelly Clarkson e Beyoncé).
Infatti, se nel 2012 Adele aveva fatto incetta di statuette sbaragliando tutta la concorrenza grazie al suo album "21", quest'anno non c'è stato un asso pigliatutto, anche se un vincitore assoluto vogliamo nominarlo lo stesso. Gotye si porta a casa 3 Grammy, proprio come Black Keys, Skrillex, Jay-Z e Kanye West, ma considerando che fino a un anno era un perfetto sconosciuto il risultato è notevole.
Ma a festeggiare come vincitori sono soprattutto le band: Mumford & Sons per "Babel" come album dell'anno, i fun. con "We Are Young" come canzone dell'anno e i Black Keys con "El Camino" come album rock dell'anno.
Guarda le migliori esibizioni dei Grammy 2013
Ecco l'elenco dei vincitori dei Grammy Awards 2013:
RECORD OF THE YEAR:
Gotye feat. Kimbra, Somebody That I Used To Know

ALBUM OF THE YEAR:
Mumford & Sons — Babel

SONG OF THE YEAR:
fun., We Are Young

BEST NEW ARTIST:
fun.

BEST POP SOLO PERFORMANCE:
Adele, Set Fire to the Rain

BEST POP DUO PERFORMANCE:
Gotye feat. Kimbra, Somebody That I Used To Know

BEST POP VOCAL ALBUM:
Kelly Clarkson — Stronger

BEST DANCE RECORDING:
Skrillex feat. Sirah, Bangarang

BEST DANCE/ELECTRONICA ALBUM:
Skrillex — Bangarang

BEST ROCK SONG:
The Black Keys, Lonely Boy

BEST ROCK ALBUM:
The Black Keys — El Camino
BEST ROCK PERFORMANCE:
The Black Keys, Lonely Boy

BEST ALTERNATIVE MUSIC ALBUM:
Gotye — Making Mirrors

BEST R&B PERFORMANCE:
Usher, Climax

BEST TRADITIONAL R&B PERFORMANCE:
Beyonce, Love On Top

BEST R&B SONG:
Miguel, Adorn

BEST URBAN CONTEMPORARY ALBUM:
Frank Ocean — Channel Orange

BEST R&B ALBUM:
Robert Glasper Experiment — Black Radio

BEST RAP PERFORMANCE:
Jay-Z & Kanye West, N****s in Paris

BEST RAP/SUNG COLLABORATION:
Jay-Z, Kanye West & Frank Ocean, No Church In the Wild

BEST RAP SONG:
Jay-Z & Kanye West, N****s in Paris

BEST RAP ALBUM:
Drake — Take Care

BEST COUNTRY SOLO PERFORMANCE:
Carrie Underwood, Blown Away

BEST COUNTRY SONG:
Carrie Underwood, Blown Away

BEST SONG WRITTEN FOR VISUAL MEDIA:
Taylor Swift, Safe & Sound (The Hunger Games)

BEST REMIXED RECORDING, NON-CLASSICAL:
Nero & Skrillex, Promises

BEST SHORT FORM MUSIC VIDEO:
Rihanna feat. Calvin Harris, We Found Love

BEST LONG FORM MUSIC VIDEO:
Mumford & Sons, Big Easy Express
Questi sono i premi più importanti, mentre l'elenco completo dei vincitori potete trovarlo sul sito ufficiale dei Grammy.
Ti potrebbe interessare anche:
Iscriviti alla newsletter di AllSongs
Riceverai i nostri aggiornamenti anche via email, è semplicissimo!

Iscrivendoti acconsenti alle condizioni d'uso di AllSongs