Concerti
Johnny Depp con i Black Keys agli MTV Movie Awards, guarda il video
Johnny Depp ha suonato la chitarra con i Black Keys: sembra incredibile, ma è vero! E' successo agli MTV Movie Awards durante l'esibizione di 'Gold on the Ceiling'.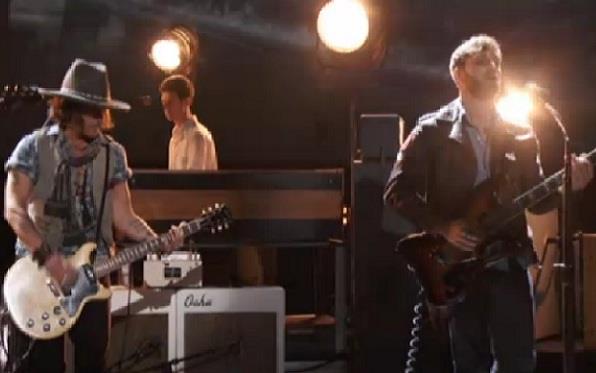 Johnny Depp ormai sembra averci fatto il callo, anzi è proprio il caso di dire i calli da chitarrista. Sì, perché ieri sera (3 giugno) l'attore hollywoodiano è salito sul palco insieme ai Black Keys e ha suonato la chitarra in 'Gold on the Ceiling' e 'Lonely Boy'.
L'esibizione è avvenuta in occasione degli MTV Movie Awards, dove Depp deve essersi sentito un po' nella Rock and Roll Hall of Fame quando ha ricevuto dalle mani di Steven Tyler e Joe Perry degli Aerosmith il premio 'The 2012 Mtv Generation Award'.
E dopo una clip che ha ripercorso la sua carriera, ha scherzato dicendo: "Guardando queste immagini c'è chiaramente qualcosa di sbagliato in me". Qui sotto il video dell'esibizione di 'Lonely Boy'.
Qui sotto il video di 'Gold on the Ceiling'.
Vi ricordiamo che il bel Johnny ha suonato la chitarra anche nella cover di "You're So Vain" di Marilyn Manson, oltre a esser salito sul palco con il Reverendo in diverse occasioni, esibendosi in 'Beautiful People' e 'Sweet Dreams'. Ma soprattutto guardate che bizzarro il video dei Black Keys per 'Gold on the Ceiling'.
E' forse il video musicale più strano di sempre? Non lo sappiamo, ma ci si avvicina molto!
Ti potrebbe interessare anche:
Iscriviti alla newsletter di AllSongs
Riceverai i nostri aggiornamenti anche via email, è semplicissimo!

Iscrivendoti acconsenti alle condizioni d'uso di AllSongs