News & Gossip
Queen: Lady Gaga canta Another One Bites The Dust con loro (video)
La cantante e la mitica band hanno unito le loro forze sul palco a Sydney reinterpretando una delle pietre miliari della storia del rock: ecco il video dello show.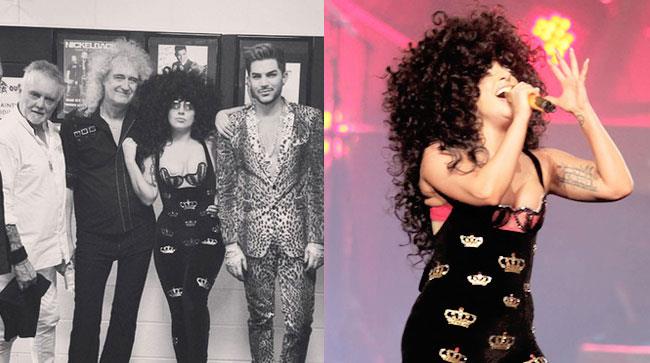 Il 27 agosto 2014 Lady Gaga è stata ospite del concerto dei Queen e Adam Lambert a Sydney: si sono esibiti insieme e hanno dato vita a un'esplosiva interpretazione di "Another One Bites The Dust".
La cantante e la band si trovavano nella città australiana perché impegnati nei rispettivi tour che casualmente hanno coinciso come periodo e luogo. Adam Lambert, cantante americano diventato famoso dopo la sua partecipazione ad American Idol, da tempo sul palco ha sostituito il compianto e mai dimenticato Freddie Mercury.
Leggi anche: Lady Gaga e Tony Bennett cantano insieme nell'album Cheek To Cheek
La canzone scelta per duettare è stata "Another One Bites The Dust", scritta nel 1980 dal bassista John Deacon e pubblicata nel disco "The Game".
Non è la prima volta che Mother Monster si è trovata a collaborare con lui e la band: per Adam aveva scritto "Fever" (canzone contenuta sul suo album d'esordio), mentre si era esibita agli MTV VMA del 2011 con Brian May - chitarrista del gruppo - sulle note di "You & I", canzone di cui May è stato coautore.
Non poteva ovviamente mancare un bel selfie per immortalare l'evento: ecco quello che Brian May, il chitarrista della band, ha pubblicato sul suo profilo Twitter.
My stick selfie of the day - with our lovely guest Lady Gaga XXX BRI pic.twitter.com/UOrIQhjemn

— Dr. Brian May (@DrBrianMay) August 27, 2014
Guarda il video live di "Another One Bites The Dust" dei Queen con Lady Gaga e Adam Lambert
Leggi il testo di "Another One Bites The Dust" dei Queen
Ooh, let's go
Steve walks warily down the street
With the brim pulled way down low
Ain't no sound but the sound of his feet
Machine guns ready to go
Are you ready, hey, are you ready for this
Are you hangin' on the edge of your seat
Out of the doorway the bullets rip
To the sound of the beat - yeah
Another one bites the dust
Another one bites the dust
And another one gone and another one gone
Another one bites the dust, eh
Hey, I'm gonna get you too
Another one bites the dust
How do you think I'm going to get along
Without you when you're gone
You took me for everything that I had
And kicked me out on my own
Are you happy? Are you satisfied?
How long can you stand the heat
Out of the doorway the bullets rip
To the sound of the beat
Look out
Another one bites the dust
Another one bites the dust
And another one gone and another one gone
Another one bites the dust, eh
Hey, I'm gonna get you too
Another one bites the dust
Hey
Oh take it
Bites the dust - bite the dust hey
Hey
Another one bites the dust
Another one bites the dust, ow
Another one bites the dust, hey hey
Another one bites the dust, heeey
Ooh show down
There are plenty of ways that you can hurt a man
And bring him to the ground
You can beat him
You can cheat him
You can treat him bad and leave him
When he's down, yeah
But I'm ready, yes I'm ready for you
I'm standing on my own two feet
Out of the doorway the bullets rip
Repeating to the sound of the beat
Oh yeah
Another one bites the dust
Another one bites the dust
And another one gone and another one gone
Another one bites the dust, yeah
Hey, I'm gonna get you too
Another one bites the dust
Shoot out
Hey, alright
Iscriviti alla newsletter di AllSongs
Riceverai i nostri aggiornamenti anche via email, è semplicissimo!

Iscrivendoti acconsenti alle condizioni d'uso di AllSongs