Nuove Uscite
Meghan Trainor, guarda il video del nuovo singolo Title
In occasione dell'uscita della riedizione del suo album di debutto Title, la popstar americana ha scelto di pubblicare un nuovo spassosissimo video.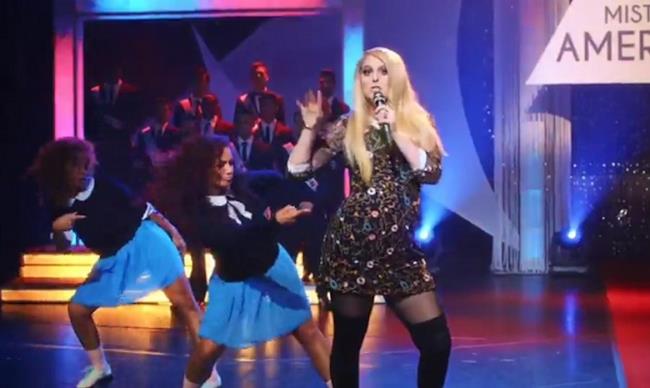 Oggi 20 novembre è arrivata nei negozi e nei digital store l'edizione speciale di Title, il disco d'esordio di che ha raggiunto i vertici delle classifiche mondiali grazie al successone di All About That Bass.
Il CD+DVD contiene tutti i 15 brani della versione deluxe più 4 tracce extra, tra cui il brano natalizio I'll Be Home e Good To Be Alive, che fa parte della colonna sonora del film dei Peanuts, mentre manca Better When I'm Dancin.
A proposito di questa Special Edition, la cantante americana ha detto:
Non posso credere che sia già trascorso quasi un anno dall'uscita di Title! Volevo ringraziare i miei fan per tutto il loro affetto ed il supporto, e fare qualcosa di fantastico per loro pubblicando questa edizione speciale per le Feste natalizie!
Bisogna riconoscere il coraggio della bionda tutta curvy: uscire nello stesso giorno del ritorno di è quasi un suicidio, non a caso gli e hanno anticipato di una settimana.
Tuttavia non si tratta di un album inedito, ma della riedizione di un progetto e quindi ci può stare. Però è anche giusto promuoverlo e per questo motivo la simpatica Meghan ha rilasciato il videoclip ufficiale della title track Title.
Chi vincerà il titolo di Mister America? Guarda il video per scoprirlo!
Meghan Trainor - Title lyrics
If you want my love
He gotta do what he does
If you want these sweet like sugar Gucci lips
He gotta give it
I know you think I'm cool
But I ain't one of the boys
No, don't be scared that I'm gon' tie you down
I need a little more

Baby, don't call me your friend
If I hear that word again
You might never get a chance to see me naked in your bed
And I know girls ain't hard to find
But if you think you wanna try
Then consider this an invitation to kiss my ass goodbye

Give me that title, title
Come on give me that title, title
Better give me that title, title
Come on give me that title, title

If it ain't no game
I won't be hanging around
But don't blow up my shit at 3 AM saying; "How you need me now?"
Don't call me boo
Like I'm so kind of ghost
If you don't want me seeking other guys
Well, here's what you need to know

Baby, don't call me your friend
If I hear that word again
You might never get a chance to see me naked in your bed
And I know girls ain't hard to find
But if you think you wanna try
Then consider this an invitation to kiss my ass goodbye

Give me that title, title
Come on give me that title, title
Better give me that title, title
Come on give me that title, title

Say I'm a special kind of woman
I'm loving what you got, but I'm hating what you doing
Gotta understand that I'm looking for a man who can get up on a bike, look mom, no hands
You gotta show me off, off
But you embarrassed, if that's the case I'm all gone
You gotta treat me like a trophy, put me on the shelf
I promise something else

Baby, don't call me your friend
If I hear that word again
You might never get a chance to see me naked in your bed
And I know girls ain't hard to find
But if you think you wanna try
Then consider this an invitation to kiss my ass goodbye

Give me that title, title
Come on give me that title, title
Better give me that title, title
Come on give me that title, title
Ti potrebbe interessare anche:
Iscriviti alla newsletter di AllSongs
Riceverai i nostri aggiornamenti anche via email, è semplicissimo!

Iscrivendoti acconsenti alle condizioni d'uso di AllSongs