News & Gossip
Grammy 2013 nomination: ci sono anche Black Keys e Mumford and Sons
Sono uscite le nomination dei Grammy 2013, in programma il prossimo 10 febbraio: tra i grandi arrivano Black Keys e Mumford and Sons, ma chi sono i delusi?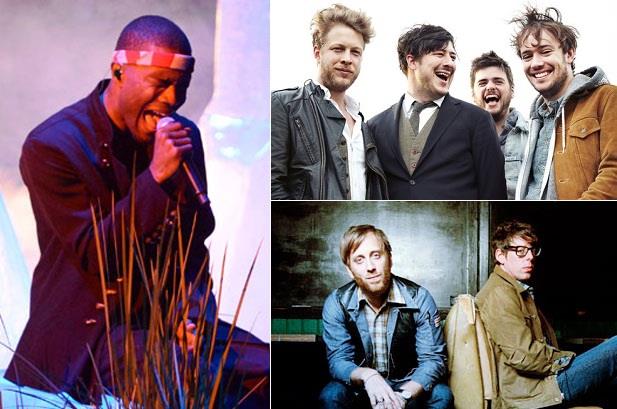 Il grande escluso dai Grammy 2013 è Justin Bieber, c'è poco da fare: l'idolo delle teenager di tutto il mondo non ha beccato neppure una nomination. Ma per fortuna anche gli One Direction sono fuori dalla corsa.
Sono andati molto bene, stranamente, Black Keys, Mumford and Sons, Fun e Frank Ocean. Male le popstar al femminile: non c'è traccia di Lady Gaga, Madonna o Christina Aguilera, solo una nomination per Rihanna e Katy Perry. E non è menzionata neanche Lana Del Rey.
Tra i tormentoni dell'anno c'è posto per 'Somebody That I Used to Know' di Gotye e 'Call Me Maybe' di Carly Rae Jepsen, mentre 'Gangnam Style' rimane fuori. Siete d'accordo?
Di seguito le nomination dei Grammy 2013:
Record Of The Year
'Lonely Boy' - The Black Keys
'Stronger (What Doesn't Kill You)' - Kelly Clarkson
'We Are Young' - Fun. featuring Janelle Monáe
'Somebody That I Used to Know' - Gotye Featuring Kimbra
'Thinkin Bout You' - Frank Ocean
'We Are Never Ever Getting Back Together' - Taylor Swift

Album Of The Year
'El Camino' - The Black Keys
'Some Nights' - Fun.
'Babel' - Mumford & Sons
'Channel Orange' - Frank Ocean
'Blunderbuss' - Jack White

Song Of The Year
'The A Team' - Ed Sheeran
'Adorn' - Miguel Pimentel
'Call Me Maybe' - Carly Rae Jepsen
'Stronger (What Doesn't Kill You)' - Kelly Clarkson
'We Are Young' - Fun. featuring Janelle Monáe

Best New Artist
Alabama Shakes
Fun.
Hunter Hayes
The Lumineers
Frank Ocean

Best Pop Solo Performance
'Set Fire To The Rain [live]' - Adele
'Stronger (What Doesn't Kill You)' - Kelly Clarkson
'Call Me Maybe' - Carly Rae Jepsen
'Wide Awake' - Katy Perry
'Where Have You Been' - Rihanna

Best Pop Vocal Album
'Stronger' - Kelly Clarkson
'Ceremonials' - Florence & the Machine
'Some Nights' - Fun.
'Overexposed' - Maroon 5
'The Truth About Love' - Pink

Best Dance Recording
'Levels' - Avicii
'Let's Go' - Calvin Harris Featuring Ne-yo
'Bangarang' - Skrillex Featuring Sirah
'Don't You Worry Child' - Swedish House Mafia Featuring John Martin
'I Can't Live Without You' - Al Walser

Best Dance/Electronica Album
'Wonderland' - Steve Aoki
'Don't Think' - The Chemical Brothers
'>Album Title Goes Here<' - Deadmau5
'Fire & Ice' - Kaskade
'Bangarang' - Skrillex

Best Rock Performance
'Hold On' - Alabama Shakes
'Lonely Boy' - The Black Keys
'Charlie Brown' - Coldplay
'I Will Wait' - Mumford & Sons
'We Take Care Of Our Own' - Bruce Springsteen

Best Hard Rock/Metal Performance
'I'm Alive' - Anthrax
'Love Bites (So Do I)' - Halestorm
'Blood Brothers' - Iron Maiden
'Ghost Walking' - Lamb Of God
'No Reflection' - Marilyn Manson
'Whose Life (Is It Anyways?)' - Megadeth

Best Rock Song
'Freedom at 21' - Jack White
'I Will Wait' - Mumford & Sons
'Lonely Boy' - The Black Keys
'Madness' - Muse
'We Take Care of Our Own' - Bruce Springsteen

Best Rock Album
'El Camino' - The Black Keys
'Mylo Xyloto' - Coldplay
'The 2nd Law' - Muse
'Wrecking Ball' - Bruce Springsteen
'Blunderbuss' - Jack White

Best Alternative Music Album
'The Idler Wheel Is Wiser Than The Driver Of The Screw And Whipping Cords Will Serve You More Than Ropes Will Ever Do' - Fiona Apple
'Biophilia' - Björk
'Making Mirrors' - Gotye
'Hurry Up, We're Dreaming.' - M83
'Bad As Me' - Tom Waits

Best R&B Song
'Adorn' - Miguel Pimentel
'Beautiful Surprise' - Tamia
'Heart Attack' - Trey Songz
'Pray For Me' - Anthony Hamilton
'Refill' - Elle Varner

Best R&B Album
'Black Radio' - Robert Glasper Experiment
'Back To Love' - Anthony Hamilton
'Write Me Back' - R. Kelly
'Beautiful Surprise' - Tamia
'Open Invitation' - Tyrese

Best Rap Performance
'Hyfr (Hell Ya ... Right)' - Drake Featuring Lil' Wayne
'... In Paris' - Jay-z & Kanye West
'Daughters'- Nas
'Mercy' - Kanye West featuring Big Sean, Pusha T & 2 Chainz
'I Do' - Young Jeezy featuring Jay-z & André 3000

Best Rap Song
'Daughters' - Nas
'Lotus Flower Bomb' - Wale
'Mercy' - Kanye West featuring Big Sean, Pusha T & 2 Chainz
'The Motto' - Drake Featuring Lil' Wayne
'... In Paris' - Jay-Z & Kanye West
'Young, Wild & Free' - Snoop Dogg and Wiz Khalifa featuring Bruno Mars

Best Rap Album
'Take Care' - Drake
'Food & Liquor II: The Great American Rap Album, Pt. 1' - Lupe Fiasco
'Life Is Good' - Nas
'Undun' - The Roots
'God Forgives, I Don't' - Rick Ross
'Based On A T.r.u. Story' - 2 Chainz

Best Country Solo Performance
'Home' - Dierks Bentley
'Springsteen' - Eric Church
'Cost Of Livin' - Ronnie Dunn
'Wanted' - Hunter Hayes
'Over' - Blake Shelton
'Blown Away' - Carrie Underwood Featuring Alison Krauss

Best Country Song
'Blown Away' - Carrie Underwood
'Cost Of Livin' - Ronnie Dunn
'Even If It Breaks Your Heart' - Eli Young Band
'So You Don't Have To Love Me Anymore' - Alan Jackson
'Springsteen' -Eric Church

Best Country Album
'Uncaged' - Zac Brown Band
'Hunter Hayes' - Hunter Hayes
'Living For A Song: A Tribute To Hank Cochran' - Jamey Johnson
'Four The Record' - Miranda Lambert
'The Time Jumpers' - The Time Jumpers
Ti potrebbe interessare anche:
Iscriviti alla newsletter di AllSongs
Riceverai i nostri aggiornamenti anche via email, è semplicissimo!

Iscrivendoti acconsenti alle condizioni d'uso di AllSongs