Concerti
One Direction in Italia: la possibile scaletta dei live 2014
Un fan avrebbe rivelato quali brani canteranno i One Direction durante le date della loro tournée mondiale "Where We Are tour" 2014 che toccherà anche l'Italia.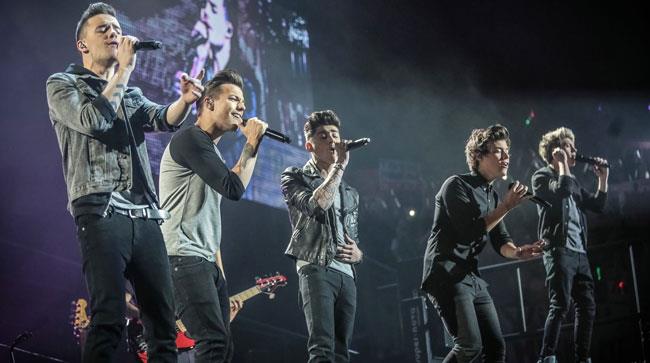 Ultime novità sul tour 2014 dei One Direction: si sono diffuse delle voci non ufficiali sulla possibile scaletta delle canzoni che Liam, Niall, Harry, Zayn e Louis canteranno sul palco.
Secondo quanto riportato dal sito EntertainmentWise, un fan sarebbe riuscito ad assistere alle prove della band e si sarebbe annotato i brani con i quali i 1D allieteranno le nostre orecchie.
C'è però abbastanza confusione riguardo alla notizia.
Le canzoni sembrano essere troppo poche per degli show memorabili come quello che si prospettano essere i live del "Where We Are Now tour" che vedranno esibirsi in apertura anche i 5 Seconds Of Summer.
Il gruppo suonerà nelle città di tutto il mondo, comprese Milano il 28 e 29 giugno e Torino il 6 luglio.
Sarebbero solo dieci le canzoni previste nel programma, compreso un medley di pezzi non loro - ovvero "Talk Dirty", "Blurred Lines" e "Get Lucky" - ed escluso il loro nuovo singolo "You & I".
Midnight Memories
Diana
Why Don't We Go There
Strong
Happily
One Thing
Talk Dirty/Blurred Lines/Get Lucky
Little White Lies
Up All Night
Don't Forget Where You Belong
Un'altra possibile scaletta che circola in rete è invece questa, con quindici brani.
Best song ever
Story of my life
Midnight memories
You & I
Why don't we go there
Strong
Happily
Little white lies
Little black dress
Alive
Little things
Rock me
C'mon c'mon
Kiss you
What makes you beautiful
Restiamo in attesa di ulteriori aggiornamenti!
Update 20/05/2014 15:00
Ecco la scaletta definitiva!
Midnight Memories
Little Black Dress
Kiss You
Why Don't We Go There
Rock Me
Don't Forget Where You Belong
Live While We're Young
C'mon C'mon
Right Now
Through The Dark
Happily
Little Things
Moments
Strong
Better Than Words
Alive
One Thing
Diana
What Makes You Beautiful
You & I
Story of My Life
Little White Lies
Best Song Ever
Live While We're Young Vip Party One Direction - Date e biglietti
Evento
Località
Data
Prezzo
Live While We're Young Vip Party One Direction
Milano Stadio San Siro - Meazza
-
Compra
Live While We're Young Vip Party One Direction
Milano Stadio San Siro - Meazza
-
Compra
Rock Me - Tour Package One Direction - Date e biglietti
Evento
Località
Data
Prezzo
Rock Me - Tour Package One Direction
Milano Stadio San Siro - Meazza
-
Compra
Rock Me - Tour Package One Direction
Milano Stadio San Siro - Meazza
-
Compra
Rock Me - Tour Package One Direction
Torino Stadio Olimpico
-
Compra
Where We Are - Hot Ticket One Direction - Date e biglietti
Evento
Località
Data
Prezzo
Where We Are - Hot Ticket One Direction
Milano Stadio San Siro - Meazza
-
Compra
Where We Are - Hot Ticket One Direction
Milano Stadio San Siro - Meazza
-
Compra
Where We Are - Hot Ticket One Direction
Torino Stadio Olimpico
-
Compra
One Direction - Date e biglietti
Evento
Località
Data
Prezzo
One Direction
Milano Stadio San Siro
80,50 €
Compra
One Direction
Milano Stadio San Siro
80,50 €
Compra
One Direction
Bern Stade de Suisse Wankdorf Bern
-
Compra
One Direction
Torino Stadio Olimpico
78,20 €
Compra
Ti potrebbe interessare anche:
Iscriviti alla newsletter di AllSongs
Riceverai i nostri aggiornamenti anche via email, è semplicissimo!

Iscrivendoti acconsenti alle condizioni d'uso di AllSongs