News & Gossip
American Music Awards 2012: vincitori, vinti e popstar più sexy [FOTO]
Justin Bieber ha vinto tutto quello che c'era da vincere agli American Music Awards 2012. Ma chi erano le popstar più sexy sfilate sul red carpet?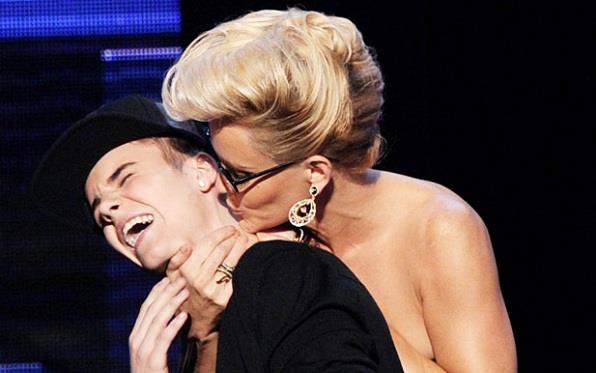 Ieri sera (18 novembre 2012) si è svolta l'annuale cerimonia degli American Music Awards, presso il Nokia Theatre di Los Angeles. Tra i vincitori spicca il nome di Justin Bieber, che ha raccolto ben tre premi, oltre al bacio vampiresco di Jenny McCarthy: artista dell'anno, miglior artista maschile pop/rock e miglior album pop/rock.
I Linkin Park hanno vinto la statuetta per miglior artista rock alternativo, battendo inspiegabilmente i Black Keys e Gotye. Gli One Direction, nonostante le tre nomination, sono rimasti a bocca asciutta: New Artist of the Year è stato vinto da Carly Rae Jepsen, Favourite Band Pop/Rock se lo sono aggiudicato i Maroon 5 e Favourite Album Pop/Rock, come già detto, è andato a 'Believe' di Bieber.
Durante la cerimonia, oltre al vincitore, si sono esibiti anche Carly Rae Jepsen, Carrie Underwood, Chris Brown e Ludacris, Christina Aguilera, Usher, Stevie Wonder, Nicki Minaj, Kelly Clarkson, Ke$ha, Linkin Park, No Doubt, Pink, Pitbull, Taylor Swift, The Wanted e ovviamente Psy con la sua 'Gangnam Style'. Ecco un po' di foto degli American Music Awards 2012!
American Music Awards 2012 vincitori:
Artist of the Year
Justin Bieber
New Artist of the Year
Carly Rae Jepsen
Favourite Male Artist - Pop/Rock
Justin Bieber
Favourite Female Artist - Pop/Rock
Katy Perry
Favourite Band, Duo or Group - Pop/Rock
Maroon 5
Favourite Album - Pop/Rock
Justin Bieber - Believe
Favourite Artist - Alternative Rock
Linkin Park
Favourite Album - Rap/Hip-Hop
Nicki Minaj - Pink Friday: Roman Reloaded
Favourite Artist - Rap/Hip-Hop
Nicki Minaj
Favourite Male Artist - Soul/R&B
Usher
Favourite Female Artist - Soul/R&B
Beyoncé
Favourite Album - Soul/R&B
Rihanna - Talk That Talk
Favourite Artist - Adult Contemporary
Adele
Favourite Artist - Latin
Shakira
Favourite Artist - Electronic Dance Music
David Guetta
Favourite Male Artist - Country
Luke Bryan
Favourite Female Artist - Country
Taylor Swift
Favourite Band, Duo or Group - Country
Lady Antebellum
Favourite Album - Country
Carrie Underwood - Blown Away
Ti potrebbe interessare anche:
Iscriviti alla newsletter di AllSongs
Riceverai i nostri aggiornamenti anche via email, è semplicissimo!

Iscrivendoti acconsenti alle condizioni d'uso di AllSongs