News & Gossip
Classifica canzoni 12 ottobre 2013: guerra fra Lorde, Miley Cyrus e Katy Perry
Questa settimana la classifica canzoni è completamente stravolta e tutta da scoprire grazie all'uscita di tanti nuovi singoli, come quelli di Eminem e Pitbull.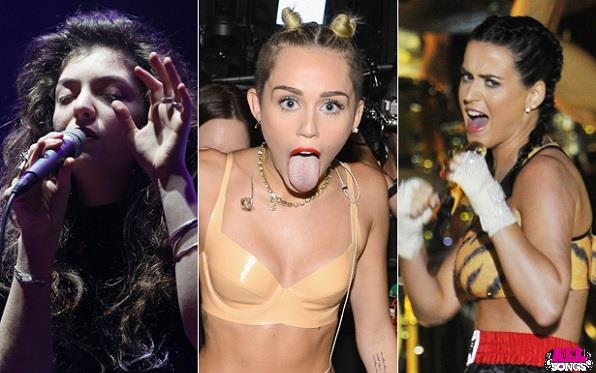 Cosa succede nella classifica canzoni di questa settimana? Una vera rivoluzione visto nelle prime dieci posizioni rimangono soltanto Avicii e Katy Perry, con ben otto nuove entrate.
E come avevamo previsto è Lorde (nome d'arte di Ella Yelich-O'Connor) a conquistare la vetta con "Royals": dopo il primo posto negli Stati Uniti e l'etichetta di anti Miley Cyrus, la cantante neozelandese di appena 16 anni sfonda anche in Italia.
Medaglia d'argento è un'altra nuova entrata: "Wrecking Ball" di Miley Cyrus, in realtà un ritorno visto che alla sua uscita il brano era entrato in classifica, soprattutto grazie al video con la famosa leccata di martello.
Al terzo posto sale "Roar" di Katy Perry, mentre rimane stabile in quarta posizione "Wake Me Up" del dj svedese Avicii, il tormentone riempipista dell'estate 2013.
E a proposito di tormentoni dopo il podio troviamo "The Fox (What Does the Fox Say?)" degli Ylvis (duo norvegese formato dai fratelli Bård e Vegard Ylvisåker): è il fenomeno virale del momento che ha superato i 100 milioni di visualizzazioni su YouTube in un mese.
In sesta posizione si piazza "Hold On, We're Going Home" del rapper canadese Drake, seguita da "Survival" di Eminem - il secondo singolo estratto dal nuovo album "MMLP2" - e "Make You Feel My Love" del cast di Glee (una cover di Bob Dylan contenuta nell'episodio The Quaterback).
A chiudere la classifica aggiornata al 12 ottobre 2013 ci sono altre due nuove entrate: "Applause" di Lady Gaga (anche in questo caso si tratta di un ritorno) e "Timber" di Pitbull feat. Kesha, che nell'arrangiamento folk ricorda decisamente il tormentone di Avicii.
Classifica iTunes Italia Top 10 canzoni 12 ottobre 2013:
Ti potrebbe interessare anche:
Iscriviti alla newsletter di AllSongs
Riceverai i nostri aggiornamenti anche via email, è semplicissimo!

Iscrivendoti acconsenti alle condizioni d'uso di AllSongs