Nuove Uscite
I 5SOS hanno scelto il loro quarto singolo: sarà Good Girls
I 5 Seconds Of Summer hanno rivelato che il quarto singolo estratto dal loro album di debutto sarà "Good Girls": ascoltalo qui e scopri tutti i dettagli.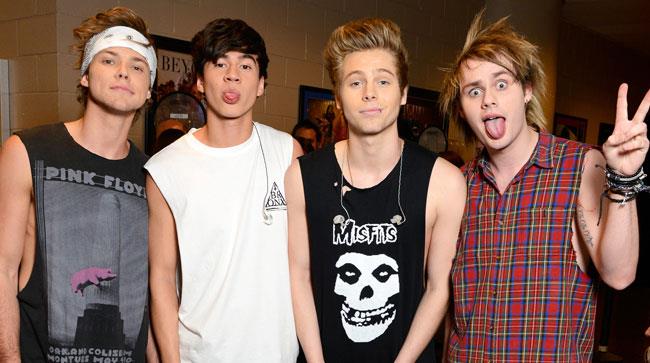 I 5 Seconds Of Summer stanno promuovendo il loro omonimo album di debutto negli Stati Uniti, dove hanno raggiunto la vetta delle classifiche di vendita.
Mentre il loro terzo singolo "Amnesia" è ancora il rotazione radiofonica, la band australiana ha già deciso quale sarà il prossimo singolo. Si tratta di "Good Girls", canzone scritta da Ashton Irwin, Michael Clifford, Rick Parkhouse, George Tizzard, Roy Stride e Josh Wilkinson.
Leggi anche: I 5SOS annunciano il Derp Con, concorso per incontrarli negli USA
La notizia non è arrivata così inaspettata però: Luke, Ashotn, Mike e Calum avevano annunciato che il prossimo singolo sarebbe stato una delle loro canzoni preferite dell'album. "Good Girls" è orecchiabile e sicuramente conquisterà le radio.
Ovviamente c'è grande attesa per il video ufficiale: i ragazzi in questi giorni lo stanno girando a Los Angeles nel Lincoln Heights Jail, una vecchia prigione chiusa nel 1965.
Ascolta l'audio di Good Girls del 5 Seconds Of Summer
Leggi il testo di di Good Girls del 5 Seconds Of Summer
She's a good girl, she's Daddy's favorite
He's saved for Harvard,
She's good at school, she's never truant
She can speak French,
'Cause every night she studies hard in her room
At least that's what her parents assume
But she sneaks out the window to meet with her boyfriend
Here's what she told me the time that I caught her
She said to me, forget what you thought
'Cause good girls are bad girls that haven't been caught
So just turn around and forget what you saw
'Cause good girls are bad girls that haven't been caught
(Do, do do, do do, do do)
Good girls are bad girls that haven't been caught
(Do, do do, do do, do do)
Good girls are bad girls that haven't been caught
She's a good girl
A straight A-student
She's really into all that self-improvement
I swear she lives in that library
But if you ask her she'll say,
But if you're looking, you won't find her there
She may be clever but she just acts too square
In the back of the room, where nobody looks,
She'll be with her boyfriend.. she's not reading books
She said to me, forget what you thought
'Cause good girls are bad girls that haven't been caught
So just turn around and forget what you saw
'Cause good girls are bad girls that haven't been caught
(Do, do do, do do, do do)
Good girls are bad girls and good girls are bad girls!
(Do, do do, do do, do do)
Good girls are bad girls that haven't been caught!
She's a good girl, hasn't been caught
She's a good girl, hasn't been caught
She said to me, forget what you thought
'Cause good girls are bad girls that haven't been caught
So just turn around and forget what you saw
'Cause good girls are bad girls that haven't been caught
She said to me, forget what you thought
'Cause good girls are bad girls that haven't been caught
So just turn around and forget what you saw
'Cause good girls are bad girls that haven't been caught
Whoa
Good girls are bad girls that haven't been caught
Whoa
Good girls are bad girls that haven't been caught
Whoa
Whoa
Good girls are bad girls that haven't been caught
Ti potrebbe interessare anche:
Iscriviti alla newsletter di AllSongs
Riceverai i nostri aggiornamenti anche via email, è semplicissimo!

Iscrivendoti acconsenti alle condizioni d'uso di AllSongs