Nuove Uscite
Justin Bieber, ascolta Love Yourself feat. Ed Sheeran
Il cantante idolo delle ragazzine ha messo online la canzone scritta con Ed Sheeran: si intitola Love Yourself ed è contenuta nel suo nuovo album Purpose.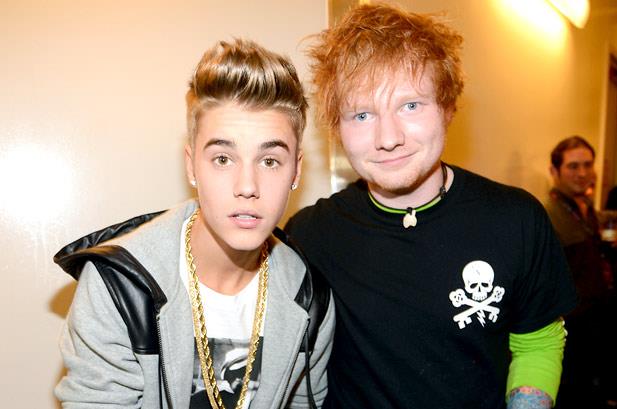 Dopo la preview di The Feeling feat. Halsey è arrivata anche Love Yourself, che ha deciso di mandare in anteprima mondiale al programma radiofonico Beats 1 di Zane Lowe.
Entrambe le tracce sono contenute in Purpose, il quarto album in studio del cantante canadese che esce nei negozi e nei digital store venerdì 13 novembre - alla faccia della superstizione e in concomitanza con Made in the A.M. degli One Direction.
Ad annunciare lo streaming del pezzo su Spotify e Apple Music ci ha pensato lo stesso Biebs, che ha scritto un tweet con l'hashtag #LoveYourself.
Stream #LoveYourself Now! #4DaysTillPURPOSE https://t.co/T7uXZXbLyg https://t.co/tMSeaP2OVL pic.twitter.com/V0X9obbvtv

— Justin Bieber (@justinbieber) November 9, 2015
Love Yourself, co-scritta con , è una ballata su una ex che non ha preso molto bene la loro rottura. Potrebbe essere indirizzata a Selena Gomez, come anche i precedenti singoli What Do You Mean? e Sorry.
Nel ritornello Justin canta "And if you think that I'm still holdin' on to somethin'/You should go and love yourself". E c'è già chi sostituisce love yourself con fuck yourself!
Ascolta Love Yourself su Spotify, a seguire il testo della canzone.
Justin Bieber - Love Yourself lyrics
For all the times that you rain on my parade
And all the clubs you get in using my name
You think you broke my heart, oh girl for goodness sake
You think I'm crying, oh my oh, well I ain't

And I didn't wanna write a song cause I didn't want anyone thinking I still care
I don't but, you still hit my phone up
And baby I be movin' on and I think you should be somethin'
I don't wanna hold back, maybe you should know that
My mama don't like you and she likes everyone
And I never like to admit that I was wrong
And I've been so caught up in my job, didn't see what's going on
And now I know, I'm better sleeping on my own

Cause if you like the way you look that much
Oh baby you should go and love yourself
And if you think that I'm still holdin' on to somethin'
You should go and love yourself

But when you told me that you hated my friends
The only problem was with you and not them
And every time you told me my opinion was wrong
And tried to make me forget where I came from

And I didn't wanna write a song cause I didn't want anyone thinking I still care
I don't but, you still hit my phone up
And baby I be movin' on and I think you should be somethin'
I don't wanna hold back, maybe you should know that
My mama don't like you and she likes everyone
And I never like to admit that I was wrong
And I've been so caught up in my job, didn't see what's going on
And now I know, I'm better sleeping on my own

Cause if you like the way you look that much
Oh baby you should go and love yourself
And if you think that I'm still holdin' on to somethin'
You should go and love yourself

For all the times you made me feel small
I fell in love, now I fear nothin' at all
I never felt so low when I was vulnerable
Was I a fool to let you break down my walls?

Cause if you like the way you look that much
Oh baby you should go and love yourself
And if you think that I'm still holdin' on to somethin'
You should go and love yourself
Cause if you like the way you look that much
Oh baby you should go and love yourself
And if you think that I'm still holdin' on to somethin'
You should go and love yourself
Ti potrebbe interessare anche:
Iscriviti alla newsletter di AllSongs
Riceverai i nostri aggiornamenti anche via email, è semplicissimo!

Iscrivendoti acconsenti alle condizioni d'uso di AllSongs