Nuove Uscite
Justin Timberlake, Take Back The Night: ascolta il nuovo singolo
E' arrivato decisamente in anticipo il nuovo singolo di Justin Timberlake, 'Take Back The Night', primo estratto dall'album in uscita a settembre 2013.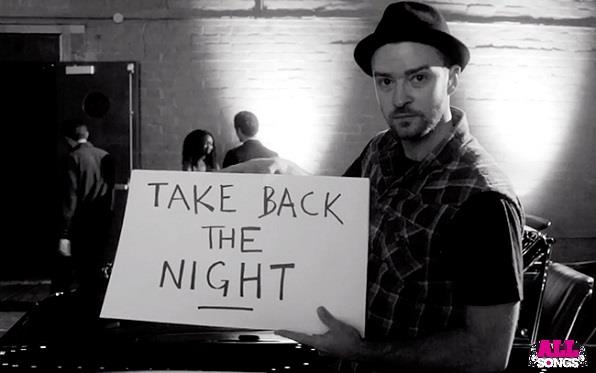 Justin Timberlake ha pubblicato oggi (12 luglio) il suo nuovo singolo 'Take Back the Night', prodotto dal solito Timbaland. La traccia - non uccideteci - ricorda un po' Michael Jackson ed è la prima estratta dal sequel di 'The 20/20 Experience', il disco pubblicato lo scorso 15 marzo.
Ma 'The 20/20 Experience PT. 2', che uscirà il prossimo 30 settembre, sarà un nuovo album completo? Si vocifera che sarà composto da una tracklist di dieci brani, quindi possiamo rispondere decisamente sì alla domanda precendete.
Ascolta 'Take Back the Night' di Justin Timberlake.
In ogni caso, 'Take Back the Night' è il primo singolo estratto dal nuovo album, sequel o come lo volete chiamare ed è una bestia di traccia: è funky, è groovy, è pop ed è perfetta da mettere in qualsiasi club.
L'unico dubbio è la durata: tanto per cambiare Justin Timberlake ha fatto un pezzo che supera i sei minuti, per la precisione sei minuti e ventotto secondi. Come la prenderanno le radio?
Ma soprattutto 'Tunnel Vision' - e la polemica su donne nude, capezzoli in vista, misoginia, ecc. ecc. - è stata così subito messa da parte, a distanza di una settimana e poco più?
Justin Timberlake - Take Back The Night testo
Yeah, uh, feels good, don't it?
Listen, uh
[Verse 1]
Yeah, this was your city
You did it all and more, broke every law except for one, babe
Attraction, are you ready
I know you feel it
Pull you nearer 'til you feel it again, oh

I wanna do something right
But we can do something better
Ain't no time like tonight
And we ain't trying to save it 'til later
Stay out here living the life
Nobody cares who we are tomorrow
You got that lil' something I like
A little something I've been wanting to borrow
Tonight the night's, come on surrender
I won't lead your love astray, astray, yeah
Your love's a weapon
Give your body some direction
That's my aim
Then, we could

Take back the night
Come on, use me up until there's nothing left
Take back the night
Dizzy, spinning, sweating, you can't catch your breath
Take back the night
Ooh, don't know when the sun is rising next
Take back the night
So if the feeling's right, then raise your glass and let's

Take back the night, take back the night
They gon' try to shut us down, I'll be damned if we gon' let them
Take back the night, take back the night
You know you gon' mess around and find out there ain't no one better
Take back the night, oh
Yeah

Rare, there's not too many
No one but you and crowded rooms, we can do anything (yeah)
Attraction can drive you crazy
The way you move, you go crazy, that's incentive for me

I wanna do something right
But we can do something better
Ain't no time like tonight
And we ain't trying to save it 'til later
Stay out here living the life
Nobody cares who we are tomorrow
You got that lil' something I like
A little something I've been wanting to borrow
Tonight the night's, come on surrender
I won't lead your love astray, astray, yeah
Your love's a weapon
Give your body some direction
That's my aim
Then, we could

Take back the night
Come on, use me up until there's nothing left
Take back the night
Dizzy, spinning, sweating, you can't catch your breath
Take back the night
Ooh, don't know when the sun is rising next
Take back the night
So if the feeling's right, then raise your glass and let's

Take back the night, take back the night
They gon' try to shut us down, I'll be damned if we gon' let them
Take back the night, take back the night
You know you gon' mess around and find out there ain't no one better

And the horns say, alright
And the horns say, alright
Uh, ooh, and the horns say, alright
And the horns say
Doo doo doo doo doo doo doo
Take it over
Yeah, yeah

Y'all ready to have a good time out there, ladies and gentlemen?
Take back the night, take back the night...

Take back the night
Come on, use me up until there's nothing left
Take back the night
Dizzy, spinning, sweating, you can't catch your breath
Take back the night
Ooh, don't know when the sun is rising next
Take back the night
So if the feeling's right, then raise your glass and let's
Take back the night
Ti potrebbe interessare anche:
Iscriviti alla newsletter di AllSongs
Riceverai i nostri aggiornamenti anche via email, è semplicissimo!

Iscrivendoti acconsenti alle condizioni d'uso di AllSongs