News & Gossip
Nicki Minaj chiede scusa per il video filonazista di Only
Il web e la comunità ebraica sono insorti contro la rapper per l'uso improprio di alcune immagini filonaziste che appaiono nel video del nuovo singolo "Only".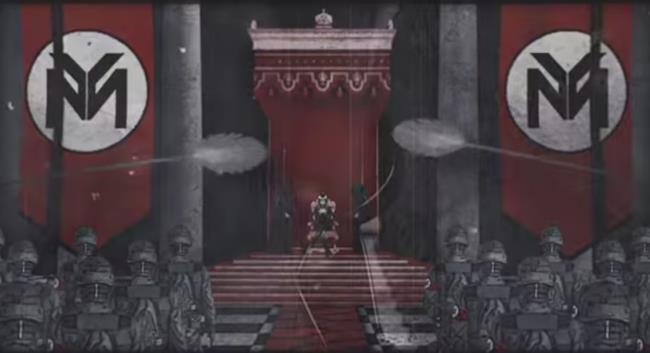 ha pubblicato ieri il lyric video del suo nuovo singolo "Only", ma non pensava di ricevere tutte queste attenzioni. O perlomeno se l'aspettava per i featuring di , e .
Invece la rapper è stata accusata di filonazismo per l'uso di immagini che rimandano al Terzo Reich di Hitler. In realtà non è la prima volta che il regista Jeff Osborne utilizza riferimenti al nazismo nei suoi lavori, ma in questo caso sembra quasi un'apologia!
Guarda anche:
Nicki è raffigurata come una dittatrice, seduta su un trono di fronte a un esercito di soldati che indossano una fascia rossa al braccio con il logo Young Money simile alla svastica nazista, mentre Chris Brown veste i panni di un generale, Lil Wayne quelli di un businessman e Drake quelli di Papa - forse un'allusione a Pio XII, che non fece abbastanza durante la seconda guerra mondiale per fermare la Shoah?
Il video ha ricevuto sul web una valanga di critiche e commenti negativi, soprattutto da parte dei molti ebrei americani che lo vedono come un oltraggio nei confronti di tutte le persone che hanno perso la vita per colpa della follia di Hitler.
Leggi anche: I One Direction battono il record di Anaconda
Le scuse della rapper non si sono fatte attendere e ci sono voluti addirittura tre tweet. Nel primo afferma che il regista è stato influenzato da Sin City e da un cartone chiamato Metalocalypse.
The artist who made the lyric video for "Only" was influenced by a cartoon on Cartoon Network called "Metalocalypse" & Sin City.

— NICKI MINAJ (@NICKIMINAJ) 11 Novembre 2014
Nel secondo si giustifica dicendo che il produttore e la persona che supervisionava il video sono entrambi ebrei.
Both the producer, & person in charge of over seeing the lyric video (one of my best friends & videographer: A. Loucas), happen to be Jewish

— NICKI MINAJ (@NICKIMINAJ) 11 Novembre 2014
Nel terzo e ultimo tweet ci sono le scuse vere e proprie.
I didn't come up w/the concept, but I'm very sorry & take full responsibility if it has offended anyone. I'd never condone Nazism in my art.

— NICKI MINAJ (@NICKIMINAJ) 11 Novembre 2014
Probabilmente si tratta solo di cattivo gusto, si sa che Nicki non è la regina del bon ton, ma questa volta poteva evitare!
Guarda il lyric video di Only
Leggi il testo di Only
Nicki Minaj
Yo, I never fucked Wayne, I never fucked Drake
On my life, man, fuck's sake
If I did I menage with 'em and let 'em eat my ass like a cupcake
My man full, he just ate, I don't duck nobody but tape
Yeah, that was a set up for a punchline on duct tape
Worried 'bout if my butt's fake
Worry 'bout yall niggas, us straight
These girls are my sons, John and Kate plus eight
When I walk in, sit up straight, I don't give a fuck if I was late
Dinner with my man on a G5 is my idea of an update
Hut one, hut two, big bitties, big butt too
Fuck with them real niggas who don't tell niggas what they up to
Had to show bitches where the top is, ring finger where the rock is
These hoes couldn't test me even if their name was pop quiz
Bad bitches who I fuck with, mad bitches we don't fuck with
I don't fuck with them chickens unless they last name is cutlet
Let it soak in like seasonin'
And tell 'em, tell 'em blow me, Lance Stephenson
Chris Brown
Raise every bottle and cup in the sky
Sparks in the air like the fourth of July
Nothing but bad bitches in here tonight
Oh, if you lame and you know it be quiet
Nothing but real niggas only, bad bitches only
Rich niggas only, independent bitches only
Boss niggas only, thick bitches only
I got my real niggas here by my side, only
Drake
I never fucked Nicki cause she got a man
But when that's over then I'm first in line
And the other day in her Maybach
I thought god damn, this is the perfect time
We had just come from that video
You know LA traffic, how the city slow
She was sitting down on that big butt
But I was still staring at the titties though
Yeah, lowkey it may be high key
I been peeped that you like me, you know
Who the fuck you really wanna be with besides me?
I mean, it doesn't take much for us to do this shit quietly
I mean, she say I'm obsessed with thick women and I agree
Yeah, that's right, I like my girls BBW, yeah
Type to wanna suck you dry and then eat some lunch with you
Yeah, so thick that everybody else in the room is so uncomfortable
Ass on Houston Texas, but the face look just like Clair Huxtable
Oh, yeah, you the man in the city when the mayor fuck with you
The NBA players fuck with you
The bad ass bitches doing makeup and hair fuck with you
Oh, that's cause I believe in something, I stand for it
And Nicki if you ever tryna fuck
Just give me the heads up so I can plan for it
Chris Brown
Raise your bottle and cup in the sky
Sparks in the air like the fourth of july
Nothing but bad bitches in here tonight
Oh, if you lame and you know it be quiet
Nothing but real niggas only, bad bitches only
Richest niggas only, independent bitches only
Boss niggas only, thick bitches only
I got my real niggas here by my side, only
Lil Wayne
I never fucked Nicki and that's fucked up
If I did fuck she'd be fucked up
Whoever is hittin' ain't hittin' it right
Cause she actin' like she need dick in her life
That's another story, I'm no story teller
I piss greatness like gold is yellow
All my goons so overzealous
I'm from Holly Groove, the holy Mecca
Calender say I got money for days
I squirm and I shake, but I'm stuck in my ways
My girlfriend will beat a bitch up if she wave
They bet not fuck with her surfboard, surfboard
My eyes are so bright, I take cover for shade
Don't have my money? I take mothers instead
You got the hiccups, you swallowed the truth
Then I make you burp, boy, treat beef like sirloin
I'm talkin' bout runnin' in houses with army guns
So think about your son and daughter rooms
Got two hoes with me, messed up, they got smaller guns
Ain't thinkin' bout your son and daughter rooms
This is just crazy my nigga, I mean brazy, my nigga
That money talk, I just rephrase it, my nigga
Blood gang take the B out behavior, my nigga
Fucking for reals if you mouth off I blow your face off
I mean pop-pop-pop then I take off
Now you see me, now you don't
Like Jamie Foxx acting like Ray Charles
16 in a clip, one in the chamber
17 ward bully with 17 bullets
My story is how I went from poor me
To police pour me a drink and celebrate with me
Chris Brown
Raise your bottle and cup in the sky
Sparks in the air like the fourth of july
Nothing but bad bitches in here tonight
Oh, if you lame and you know it be quiet
Nothing but real niggas only, bad bitches only
Richest niggas only, independent bitches only
Boss niggas only, thick bitches only
I got my real niggas here by my side, only
Ti potrebbe interessare anche:
Iscriviti alla newsletter di AllSongs
Riceverai i nostri aggiornamenti anche via email, è semplicissimo!

Iscrivendoti acconsenti alle condizioni d'uso di AllSongs