News & Gossip
I OneRepublic sono gli ospiti stranieri della semifinale di X Factor 8
Il gruppo statunitense torna in Italia come super ospite della semifinale di X Factor 8, dove si esibirà dal vivo con l'ultimo singolo "I Lived".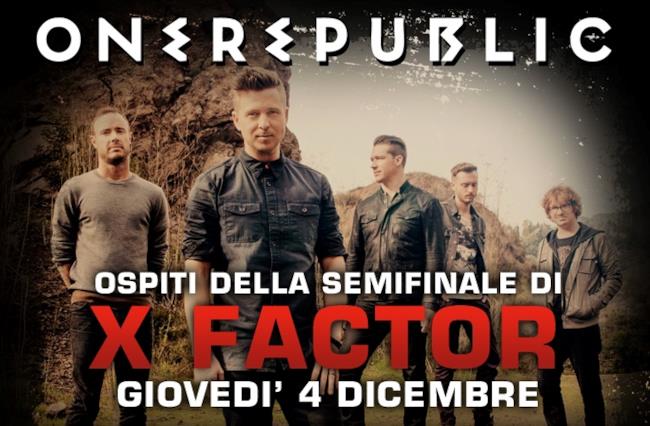 I saranno gli ospiti del settimo Live Show di , in onda giovedì 4 dicembre: dopo Robin Schulz, Kiesza, Charli XCX ed Ed Sheeran, Ryan Tedder e soci sono i nuovi artisti stranieri a salire sul palco dell'X Factor Arena.
La band presenterà dal vivo il nuovo singolo "I Lived", l'ultimo estratto dall'album "Native" - 4 milioni di copie vendute in tutto il mondo - dopo "Feel Again", "If I Lose Myself", "Counting Stars", "Something I Need" e ‪"Love Runs Out‬".
Leggi anche: Il riassunto dell'ultima puntata di X Factor 8
I OneRepublic, che due settimane fa sono stati al Mediolanum Forum di Assago per l'unica data italiana del Native Tour, hanno annunciato una nuova tappa a Padova nel 2015, all'interno dell'Hydrogen Festival di Piazzola sul Brenta.
L'appuntamento con la semifinale di X Factor 8 è per il 4 dicembre 2014 alle 21:10 su Sky Uno. Giovedì si prospetta una puntata caldissima: ci sarà infatti un'altra Apocalypse Night con due manche e due eliminazioni, ma soprattutto la presentazione degli inediti!
Guarda il video ufficiale di I Lived
Leggi il testo di I Lived
Hoping you take that jump,
But don't feel the fall.
Hope when the water rises,
You build a wall.
Hope when the crowd screams out
It's screaming your name
Hope if everybody runs
You chose to stay
Hope that you fall in love
And it hurts so bad
The only way you can know
Is give it all you have
And I hope that you don't suffer
But take the pain
Hope when the moment comes, you'll say
I..... I did it all
I..... I did it all
I owned every second that this world could give
I saw so many places
The things that I did
Yeah, with every broken bone
I swear I lived
Hope that you spend your days
But they all add up
And when that sun goes down
Hope you raise your cup
Oh, oh
I wish that I could witness
All your joy
And all your pain
But until my moment comes
I'll say
I....I did it all
I....I did it all
I owned every second that this world could give
I saw so many places
The things that I did
Yeah with every broken bone
I swear I lived
Oh whoa oh oh oh oh oh (x4)
With every broken bone
I swear I lived
With every broken bone
I swear I
I....I did it all
I....I did it all
I owned every second that this world could give
I saw so many places
The things that I did
Yeah with every broken bone
I swear I lived
Oh whoa oh oh oh oh oh (x2)
I swear I lived
Oh whoa oh oh oh oh oh (x2)
Iscriviti alla newsletter di AllSongs
Riceverai i nostri aggiornamenti anche via email, è semplicissimo!

Iscrivendoti acconsenti alle condizioni d'uso di AllSongs