Nuove Uscite
Pharrell Williams diventa un cartoon nel nuovo video It Girl!
Il cantante si trasforma in cartone animato per il videoclip del nuovo singolo "It Girl", realizzato dall'artista giapponese Takashi Murakami e dal suo staff.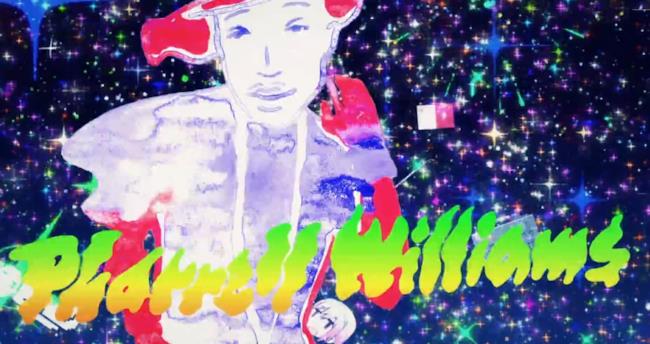 Il nuovo video di Pharrell ha un approccio all'apparenza molto diverso dai precedenti, ma a ben vedere è sempre un omaggio al mondo femminile, che è il concept alla base del suo ultimo album "GIRL".
In questo caso la popstar non balla con Miley Cyrus, come in "Come Get It Bae", e non usa primi piani di donne, come in "Marilyn Monroe", ma per "It Girl" diventa un cartone animato, forse memore della sua esperienza con i Minions.
Leggi anche: Pharrell è il nuovo giudice di The Voice
Il video oscilla fra anime giapponesi e videogiochi a 8-bit: ad esempi si può vedere Pharrell che compra vestiti e accessori per una fortunata ragazza e un gruppo di avvenenti signorine a bordo di una navicella spaziale a forma di balena.
Il cantante infatti appare sotto varie forme - tra cui una sagoma psichedelica che balla in mezzo al cielo e fa tanto "Lucy In The Sky With Diamonds" dei Beatles - ma dappertutto ovviamente indossa il suo cappello preferito!
Guarda il video It Girl
Leggi il testo It Girl
You the it girl, hey hey, my inspiration
My compass spinnin', baby, it's the right destination
Come on, come on, tell me what I came for
I got treasure to hide, so let's keep it from the strangers
Your waves, they wash all over me
Your tides, they pull me back to sea
When you bite on my lip
And hold my hand, and moan again, I'ma hold that ass
When you kiss on my lips
And hold my hand, and moan again, I'ma hold that ass
You don't know, I've been missin' you
Baby when you, go
[?] only way [?]
You the it girl, hey hey, my inspiration
My compass spinnin', baby, it's the right destination
Come on, come on, tell me what I came for
I got treasure to hide, so let's keep it from the strangers
Your waves, they wash all over me
Your tides, they pull me back
to sea
When you bite on my lip
And hold my hand, and moan again, I'ma hold that ass
When you kiss on my lips
And hold my hand, and moan again, I'ma hold that ass
You don't know, I've been missin' you
Baby when you, go, I'm missin' you
Truly gettin' me high, I be missin' you
You make me downright seasick
Oh the only way you can
You the it girl, hey hey, my inspiration
My compass spinnin', baby, it's the right destination
Come on, come on, tell me what I came for
I got treasure to hide, so let's keep it from the strangers
Your waves, they wash all over me
Your tides, they pull me back to sea
When you bite on my lip
And hold my hand, and moan again, I'ma hold that ass
When you kiss on my lips
And hold my hand, and moan again, I'ma hold that ass
Iscriviti alla newsletter di AllSongs
Riceverai i nostri aggiornamenti anche via email, è semplicissimo!

Iscrivendoti acconsenti alle condizioni d'uso di AllSongs