News & Gossip
YouTube Music Awards 2013: le nomination dai One Direction a Rihanna e Lady Gaga
Annunciate le nomination degli YouTube Music Awards 2013: tra le sei categorie troviamo tutte le popstar del momento ma anche roba più innovativa come Atoms For Peace e Bat For Lashes.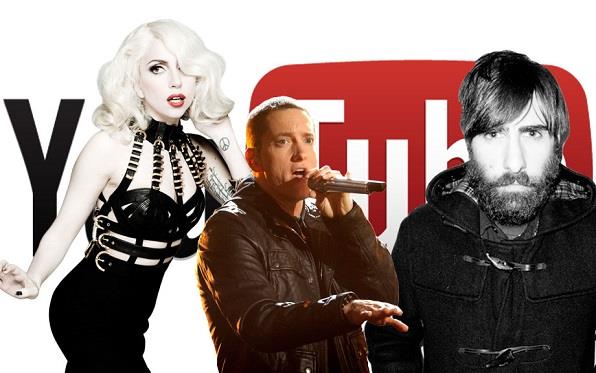 Sono state rese note solamente qualche ora fa le nomination degli YouTube Music Awards 2013, in programma il prossimo 3 novembre. Basate soprattutto sul numero di views e sull'engagement dei fan, ci troviamo i soliti noti tra cui One Direction, Justin Bieber, Lady Gaga, Miley Cyrus, Katy Perry, Rihanna, Eminem e PSY (sì, ancora lui!).
Ma tra le sei categorie ci sono da segnalare anche i premi per i fenomeni virali, come le Epic Rap Battles, e per i video innovativi, con nomi del calibro di Atoms For Peace e Bat For Lashes.
Per lo show al Pier 36 di New York sono stati chiamati tre pezzi da novanta, uno per ogni genere: come ospiti si esibiranno infatti Eminem (rap), Lady Gaga (pop) e gli Arcade Fire (rock), oltre a youtubers famosi come il collettivo musicale CDZA e la violinista Lindsey Stirling.
Le votazioni sono partite da oggi, ma come si fa a sostenere i propri cantanti preferiti? Saranno infatti proprio gli utenti a decidere chi vincerà condividendo i video presenti sul canale YouTube Spotlight!
Youtube Music Awards 2013 nomination
Artista dell'anno: i musicisti che hanno saputo dare di più ai loro fan su YouTube e che hanno ricevuto il massimo in cambio.
Eminem
Epic Rap Battles
Justin Bieber
Katy Perry
Macklemore & Ryan Lewis
Nicki Minaj
One Direction
PSY
Rihanna
Taylor Swift
Video dell'anno: i video musicali più visti, amati e condivisi su YouTube negli ultimi 12 mesi.
Epic Rap Battles Of History - Barack Obama vs Mitt Romney
Demi Lovato - Heart Attack
Girls' Generation ­- I Got A Boy
Justin Bieber (feat. Nicki Minaj) - Beauty And A Beat
Lady Gaga ­- Applause
Macklemore & Ryan Lewis (feat. Mary Lambert) - Same Love
Miley Cyrus ­ - We Can't Stop
One Direction ­- Best Song Ever
PSY ­- Gentleman
Selena Gomez ­- Come & Get It
Video risposta dell'anno: gli artisti che hanno preso un brano di altri e hanno saputo farlo proprio, quindi si tratta di video non ufficiali.
Boyce Avenue (feat. Fifth Harmony) ­- Mirrors
Jayesslee ­- Gangnam Style
Lindsey Stirling and Pentatonix ­- Radioactive
ThePianoGuys ­- Titanium/Pavane
Walk Off the Earth (feat. KRNFX) - I Knew You Were Trouble
Innovazione dell'anno: categoria dedicata al video di YouTube più innovativo e originale degli ultimi 12 mesi.
Anamanaguchi ­- Endlesse Fantasy
Atoms For Peace ­- Ingenue
Bat For Lashes ­- Lilies
DeStorm ­- See Me Standing
Toro Y Moi - Say That
Rivelazione dell'anno: gli artisti che hanno saputo passare da emergenti a nomi affermati nel corso degli ultimi 12 mesi.
Kendrick Lamar
Macklemore & Ryan Lewis
Naughty Boy
Passenger
Rudimental
Fenomeno dell'anno: un riconoscimento al video YouTube che non è sfuggito a nessuno negli ultimi 12 mesi.
Rihanna - Diamonds
PSY - Gangnam Style
Baauer - Harlem Shake
Taylo Swift - I Knew You Were Trouble
Macklemore & Ryan Lewis - Thrift Shop
Iscriviti alla newsletter di AllSongs
Riceverai i nostri aggiornamenti anche via email, è semplicissimo!

Iscrivendoti acconsenti alle condizioni d'uso di AllSongs