News & Gossip
Lana Del Rey, Lorde, Sia e Coldplay possibili candidati agli Oscar 2015
Se l'anno scorso la vittoria di Idina Menzel con "Let It Go" ha lasciato tutti un po' sorpresi, quest'anno l'Oscar potrebbe finire nelle mani di una popstar!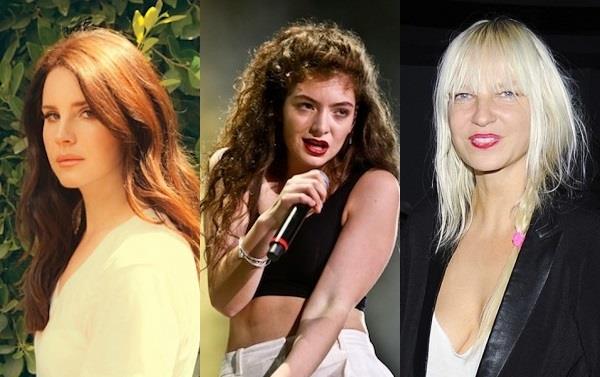 Ci sono anche , , Sia e i Coldplay tra i possibili contendenti della Miglior Canzone Originale agli Oscar 2015. Certo, l'evento è ancora lontano, ma l'Academy ha già iniziato a fare una prima selezione e ha diramato la lista dei 79 brani tra cui scegliere i 5 candidati ufficiali.
Le nomination saranno fatte il 15 gennaio, anche se noi di Allsongs abbiamo già le nostre preferenze:
Lana Del Rey - Big Eyes
Lorde - Yellow Flicker Beat
Sia - Opportunity
Imagine Dragons - Battle Cry
Coldplay - Miracles
"Big Eyes" è stata scritta per l'omonimo film di Tim Burton, "Opportunity" per Annie (questi due film saranno in Italia nel 2015), "Yellow Flicker Beat" per The Hunger Games - Il canto della rivolta: parte 1, "Battle Cry" per Transformers 4 e "Miracles" per Unbroken di Angelina Jolie,
Altri brani da tenere sott'occhio sono "Gloria" di da Selma - La strada per la libertà , "Mercy Is" di da Noah, "Everything Is Awesome" dal lungometraggio d'animazione The Lego Movie e "The Last Goodbye" di Billy Boyd da Lo Hobbit 3.
Come già accennato, le 5 nomination ufficiali saranno comunicate il prossimo 15 gennaio, mentre la cerimonia degli Oscar 2015 avrà luogo il 22 febbraio al Dolby Theatre di Los Angeles.
Qui tutti i 79 brani in lizza per le nomination
"It's On Again" from "The Amazing Spider-Man 2″
"Opportunity" from "Annie"
"Lost Stars" from "Begin Again"
"Grateful" from "Beyond the Lights"
"Big Eyes" from "Big Eyes"
"Immortals" from "Big Hero 6″
"The Apology Song" from "The Book of Life"
"I Love You Too Much" from "The Book of Life"
"The Boxtrolls Song" from "The Boxtrolls"
"Quattro Sabatino" from "The Boxtrolls"
"Ryan's Song" from "Boyhood"
"Split The Difference" from "Boyhood"
"No Fate Awaits Me" from "The Disappearance of Eleanor Rigby: Them"
"Brave Souls" from "Dolphin Tale 2″
"You Got Me" from "Dolphin Tale 2″
"All Our Endless Love" from "Endless Love"
"Let Me In" from "The Fault in Our Stars"
"Not About Angels" from "The Fault in Our Stars"
"Until The End" from "Garnet's Gold"
"It Just Takes A Moment" from "Girl on a Bicycle"
"Last Stop Paris" from "Girl on a Bicycle"
"Ordinary Human" from "The Giver"
"I'm Not Gonna Miss You" from "Glen Campbell…I'll Be Me"
"Find A Way" from "The Good Lie"
"Color The World" from "The Hero of Color City"
"The Last Goodbye" from "The Hobbit: The Battle of the Five Armies"
"Chariots" from "The Hornet's Nest"
"Follow Me" from "The Hornet's Nest"
"Something To Shoot For" from "Hot Guys with Guns"
"For The Dancing And The Dreaming" from "How to Train Your Dragon 2″
"Afreen" from "The Hundred-Foot Journey"
"Yellow Flicker Beat" from "The Hunger Games: Mockingjay – Part 1″
"Heart Like Yours" from "If I Stay"
"I Never Wanted To Go" from "If I Stay"
"Mind" from "If I Stay"
"Everything Is Awesome" from "The Lego Movie"
"Call Me When You Find Yourself" from "Life Inside Out"
"Coming Back To You" from "Life of an Actress The Musical"
"The Life Of An Actress" from "Life of an Actress The Musical"
"Sister Rust" from "Lucy"
"You Fooled Me" from "Merchants of Doubt"
"Million Dollar Dream" from "Million Dollar Arm"
"Spreading The Word/Makhna" from "Million Dollar Arm"
"We Could Be Kings" from "Million Dollar Arm"
"A Million Ways To Die" from "A Million Ways to Die in the West"
"Way Back When" from "Mr. Peabody & Sherman"
"America For Me" from "A Most Violent Year"
"I'll Get You What You Want (Cockatoo In Malibu)" from "Muppets Most Wanted"
"Something So Right" from "Muppets Most Wanted"
"We're Doing A Sequel" from "Muppets Most Wanted"
"Mercy Is" from "Noah"
"Seeds" from "Occupy the Farm"
"Grant My Freedom" from "The One I Wrote for You"
"The One I Wrote For You" from "The One I Wrote for You"
"Hal" from "Only Lovers Left Alive"
"Shine" from "Paddington"
"Still I Fly" from "Planes: Fire & Rescue"
"Batucada Familia" from "Rio 2″
"Beautiful Creatures" from "Rio 2″
"Poisonous Love" from "Rio 2″
"What Is Love" from "Rio 2″
"Over Your Shoulder" from "Rudderless"
"Sing Along" from "Rudderless"
"Stay With You" from "Rudderless"
"Everyone Hides" from "St. Vincent"
"Why Why Why" from "St. Vincent"
"Glory" from "Selma"
"The Morning" from "A Small Section of the World"
"Special" from "Special"
"Gimme Some" from "#Stuck"
"The Only Thing" from "Third Person"
"Battle Cry" from "Transformers: Age of Extinction"
"Miracles" from "Unbroken"
"Summer Nights" from "Under the Electric Sky"
"We Will Not Go" from "Virunga"
"Heavenly Father" from "Wish I Was Here"
"So Now What" from "Wish I Was Here"
"Long Braid" from "Work Weather Wife"
"Moon" from "Work Weather Wife"
Iscriviti alla newsletter di AllSongs
Riceverai i nostri aggiornamenti anche via email, è semplicissimo!

Iscrivendoti acconsenti alle condizioni d'uso di AllSongs