Nuove Uscite
Straight No Chaser, ecco il video ufficiale di Text Me Merry Christmas
Text Me Merry Christmas è l'originale canzone di Natale degli Straight No Chaser che fa riflettere con ironia sul rapporto con la tecnologia anche durante le feste.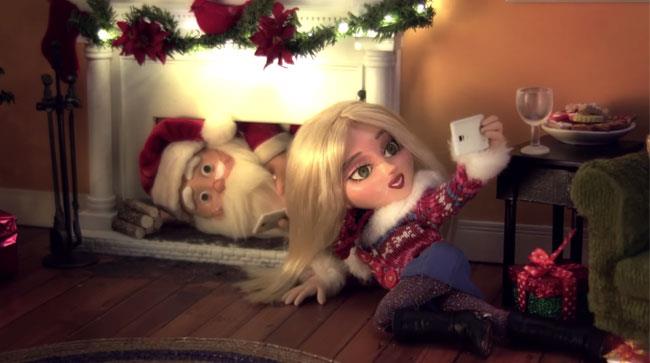 L'attrice Kristen Bell (che deve la sua fama principalemente per il suo ruolo da protagonista nel telefilm "Veronica Mars") ha prestato la sua voce nel nuovo singolo del gruppo vocale .
"Text Me Merry Christmas" è la loro nuova canzone per il Natale 2014 che parla di una relazione a distanza nell'epoca dei social network. Nel video ufficiale i protagonisti della storia sono impersonati da due bambole che vivono distanti ma che si tengono in contatto mandandosi continuamente messaggi con lo smartphone.
Il pezzo vuole ironizzare su come sia cambiato e divetato impersonale il modo di comunicare nella nostra epoca, visto che nessuno scrive più a mano o fa raramente telefonate. E sul finale del clip compare anche Babbo Natale che si scatta un bel selfie di auguri insieme alla bambolina bionda!
Guarda il video di Text Me Merry Christmas
Leggi il testo di Text Me Merry Christmas
Kristen:
This holiday
You'll be far away
And I'll be all alone
So please remember
This December
To fully charge your phone
And
Text me Merry Christmas
Let me know you care
Just a word or two
Of text from you
Will remind me you're still there You don't have to add much to it
One smiley face will do
Baby text me Merry Christmas
Cause I'm missing kissing you
Mike:
Text me Merry Christmas
Make my holiday complete
Though you're far from me
Say you'll brb
That's a text I'll never delete
Choose just the right emoji
One that makes me lol
And if you text me something naughty I promise I won't tell
Kristen and Mike:
I don't care if you spell things right
I just want to hear from you tonight
Stroke those keys with your delicate touch
And type those little words that mean so much!
Mike: Hi
Kristen: Hey
Mike: How are you
Kristen: Ok
Mike: Miss u
Kristen: Miss u too
Mike: Xmas sucks without you
Kristen: I know lol
Mike: Love u
Kristen: Love u 2
Mike: Kthxbye
Kristen and Mike:
A facebook message isn't quite as sweet
Kristen:
A need more from you than just a tweet
Mike:
A snap on snapchat doesn't last
Kristen and Mike:
And voicemail? That's from Christmas past
Text me Merry Christmas
Send a selfie too
If you do, I'll go
'Neath the mistletoe
And pretend my screen is you
Show me that you love me
Text xo to kiss and hug me
I'll be right here waiting
For my pants to start vibrating
Baby text me Merry Christmas
And I will text you too This Christmas
It's the least that we can do Merry Christmas!
Iscriviti alla newsletter di AllSongs
Riceverai i nostri aggiornamenti anche via email, è semplicissimo!

Iscrivendoti acconsenti alle condizioni d'uso di AllSongs