News & Gossip
Ed Sheeran e Bruno Mars prendono in giro Nicki Minaj e Taylor Swift
Nella catfight tra Taylor Swift e Nicki Minaj dopo le nomination agli MTV VMAs, sono subentrati a gamba tesa e fra tante risate Ed Sheeran e Bruno Mars.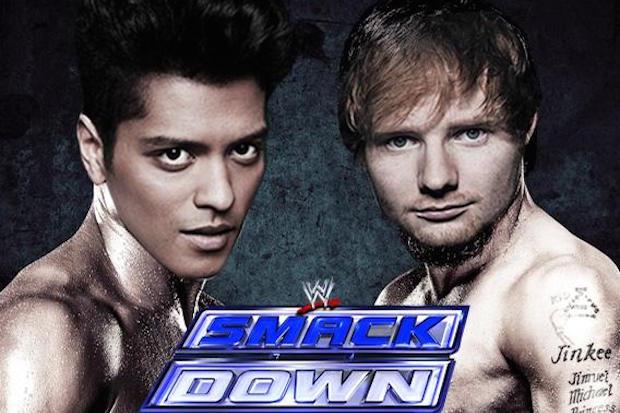 Manca più di un mese agli MTV Video Music Awards 2015, ma in queste ultime ore in rete non si parla d'altro. Il merito è tutto del litigio fra Nicki Minaj e Taylor Swift, che ha addirittura oscurato la notizia della conduzione di Miley Cyrus.
Per farla breve, dopo l'annuncio delle nomination, la rapper di colore ha accusato MTV e i media in generale di aver dato troppa importanza al video di "Bad Blood" e di aver snobbato quello di "Anaconda".
Ma perché lasciare a loro tutto il divertimento? Per questo motivo è intervenuto nella faida, anzi ne ha creata di proposito una nuova grazie all'amico e collega .
I due hanno iniziato a insultarsi su Twitter per scherzo. Il cantante americano, in gara con "Uptown Funk" di Mark Ronson, ha scritto che i VMAs sono i nuovi incontri di wrestling.
Yo I want in on this twitter Beef!! VMAs is the new WWF!! @edsheeran Fuck You!

— Bruno Mars (@BrunoMars) July 22, 2015
Il cantautore inglese, candidato a 6 statuette grazie ai video di "Thinking Out Loud" e "Don't", gli ha risposto che contro di lui farà una fine miserabile.
@BrunoMars any way we do dis you gon' come up short

— Ed Sheeran (@edsheeran) July 22, 2015
Bruno ha accusato il colpo perché Ed sa come colpirlo al cuore e non riesce a credere che sia arrivato a farlo in pubblico.
That Cut deep..U always know how to sheer me to the core. I can't believe we're Sheeran this in public. How dare u! https://t.co/fdYOVnlScF

— Bruno Mars (@BrunoMars) July 22, 2015
L'ultimo tweet è di Sheeran che ironizza sulle folte sopracciglia di Mars scambiandole per un monociglio.
@BrunoMars but all my crew know that Bruno has eyebrows dat be uno. And plays Cluedo with SuBo, but you lose coz you blow

— Ed Sheeran (@edsheeran) July 22, 2015
Ormai non importa più a nessuno se la ragione è dalla parte di Taylor o da quella di Nicki: #epicwin per Ed e Bruno, questa volta il cameratismo maschile ha vinto alla grande!
Iscriviti alla newsletter di AllSongs
Riceverai i nostri aggiornamenti anche via email, è semplicissimo!

Iscrivendoti acconsenti alle condizioni d'uso di AllSongs