News & Gossip
Taylor Swift ride di Katy Perry durante una performance di Bad Blood
Continua la catfight tra Taylor Swift e Katy Perry: questa volta il dissing è arrivato durante un concerto quando un ballerino si è vestito da "left shark".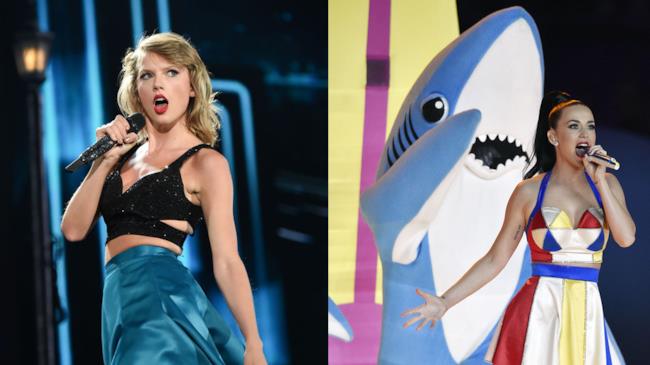 Non è un mistero che "Bad Blood", l'ultima hit di Taylor Swift, sia un attacco nei confronti della collega Katy Perry, rea di averle "rubato" alcuni ballerini da impiegare nel tour.
Nonostante non sia mai arrivata l'ufficialità, questa performance ci conferma i sospetti: la cantante si trovava al Gillette Stadium di Foxborough, in Massachusetts, quando uno squalo è apparso brevemente dietro di lei.
La popstar ha riso di gusto alla comparsa del suo ballerino così vestito e ha poi proseguito con l'esibizione di "Bad Blood". Ma perché uno squalo? Cosa vuol dire?
Beh, è ​​un riferimento neanche troppo velato al "left shark" di Katy Perry, che è diventato virale lo scorso febbraio durante il suo show al Super Bowl: a quanto pare sotto il costume si nascondeva proprio uno dei ballerini che aveva scatenato la faida.
Solo la settimana scorsa la cantante di "Roar" era tornata a ruggire criticando le nomination degli MTV Video Music Awards e schierandosi a favore di Nicki Minaj, per cui il video di "Anaconda" sarebbe stato snobbato.
E ha scritto su Twitter che trovava ironico mettere in ballo il discorso di non litigare fra donne quando qualcuna (leggi Taylor Swift con "Bad Blood") capitalizza proprio nello sminuire una donna.
Finding it ironic to parade the pit women against other women argument about as one unmeasurably capitalizes on the take down of a woman...

— KATY PERRY (@katyperry) July 22, 2015
Alla fine Taylor ha chiesto scusa a Nicki ed è tornata la pace fra le due colleghe, mentre lo scontro Swift vs Perry è destinato a durare ancora per molto...
Iscriviti alla newsletter di AllSongs
Riceverai i nostri aggiornamenti anche via email, è semplicissimo!

Iscrivendoti acconsenti alle condizioni d'uso di AllSongs