News & Gossip
The Kolors, nuovo record per Out: è triplo platino
Out, secondo studio album dei The Kolors, diventa disco di platino per la terza volta. Grandi soddisfazioni per la band vincitrice di Amici 2015 anche sul fronte live.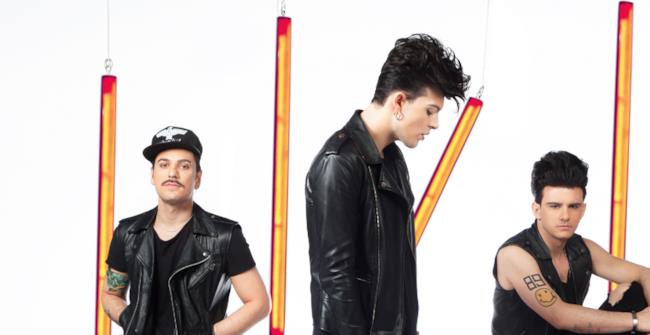 Dominatori assoluti dell'edizione di Amici 2015, i The Kolors continuano a macinare successi. Il loro album "Out" (secondo studio album pubblicato lo scorso maggio) ha ottenuto il terzo disco di platino grazie alle 150mila copie vendute in due mesi.
Il loro brano Everytime è stato scelto da una nota compagnia di telefonia mobile per pubblicizzare i suoi servizi. Anche sul fronte live le cose vanno alla grande. La data di Roma del 10 luglio è stata sold out, grande affluenza di pubblico anche a Genova, Salerno, Giugliano ma la soddisfazione più grande, probabilmente, è arrivata dalla data di Milano del 18 luglio.
Nella nostra intervista, Stash ha raccontato:
È stata una serata speciale, c'erano persone che abbiamo riconosciuto sotto il palco perché ci hanno visti la prima volta che abbiamo suonato alle Scimmie e vederli in quel bagno di folla è stato emozionante. È difficile descrivere queste sensazioni. Qua ci siamo sentiti come fossimo a casa, non solo per le persone presenti e che già ci seguivano, ma anche per il posto. Qui all'ortomercato venivo a prendere la mozzarella. Avevo appuntamento alle 3:20 con il camion che arrivava da Napoli e portavamo poi il formaggio alla rivendita alimentare di mio padre. Tornare qui con un concerto tutto nostro dopo due anni è stato quasi surreale.
The Kolors - Date e biglietti
Evento
Località
Data
Prezzo
The Kolors
Castel Del Piano Monte Amiata Stadio Comunale
17,00 €
Compra
The Kolors
Roma Auditorium Parco della Musica - Cavea
30,00 €
Compra
The Kolors
Genova Arena del Mare - Area Porto Antico
23,00 €
Compra
The Kolors
Milano Estathe Market Sound
30,00 €
Compra
The Kolors
Salerno Arena del Mare
23,00 €
Compra
The Kolors
Giugliano In Campania MagicWorld
23,00 €
Compra
The Kolors
Cervia Piazza Garibaldi
28,75 €
Compra
The Kolors
Asiago Piazza Carli
25,30 €
Compra
The Kolors
Forte Dei Marmi Villa Bertelli
35,50 €
Compra
The Kolors
Localita' San Guido - Castagneto Carducci Arena Mario Incisa della Rocchetta
-
Compra
The Kolors
Capo Colonna Anfiteatro Capo Colonna
23,00 €
Compra
The Kolors
Barletta Fossato del Castello
26,45 €
Compra
The Kolors
Prato Piazza Duomo
-
Compra
The Kolors
Langhirano Piazza Melli
23,00 €
Compra
The Kolors
Nonantola Vox Club
28,75 €
Compra
The Kolors
Milano Alcatraz
34,50 €
Compra
The Kolors
Roma Atlantico
34,50 €
Compra
The Kolors
Marostica Piazza Castello
-
Compra
The Kolors
Como Arena Teatro Sociale
27,60 €
Compra
The Kolors
Marina Di Castagneto Marina Arena
-
Compra
The Kolors
Marina Di Pietrasanta Teatro La Versiliana
-
Compra
The Kolors
Alezio Green Village - Area Concerti
28,75 €
Compra
The Kolors
Paestum Teatro dei Templi
30,00 €
Compra
The Kolors
Zafferana Etnea Anfiteatro Comunale
35,00 €
Compra
The Kolors
Palermo Teatro di Verdura
39,00 €
Compra
The Kolors
Rho Open Air Theatre - Experience
21,50 €
Compra
The Kolors
Rho Open Air Theatre - Experience
21,50 €
Compra
The Kolors
Napoli Hart
29,00 €
Compra
The Kolors
Roma Teatro Quirinetta
29,00 €
Compra
The Kolors
Bologna Locomotiv Club - Ingresso riservato ai Soci AICS
29,00 €
Compra
The Kolors
Milano Tunnel
29,00 €
Compra
The Kolors
Torino Hiroshima Mon Amour
29,00 €
Compra
The Kolors
Torino Hiroshima Mon Amour
29,00 €
Compra
The Kolors
Milano Tunnel
29,00 €
Compra
The Kolors
Roma Largo Venue
29,00 €
Compra
The Kolors
Pozzuoli Duel Beat
29,00 €
Compra
The Kolors
Montalto Di Castro Arena Vulci Festival on the Beach
-
Compra
The Kolors
Torino Hiroshima Mon Amour
29,00 €
Compra
The Kolors
Milano Tunnel
29,00 €
Compra
The Kolors
Roma Largo Venue
29,00 €
Compra
The Kolors
Pozzuoli Duel Beat
29,00 €
Compra
The Kolors
Civitanova Marche Arena del Mare
26,45 €
Compra
Ti potrebbe interessare anche:
Iscriviti alla newsletter di AllSongs
Riceverai i nostri aggiornamenti anche via email, è semplicissimo!

Iscrivendoti acconsenti alle condizioni d'uso di AllSongs