Nuove Uscite
I Libertines svelano due nuove canzoni e la tracklist del prossimo disco
Pete Doherty e soci hanno pubblicato su YouTube il nuovo singolo "Glasgow Coma Scale Blues" e la title track dell'album, "Anthems For Doomed Youth".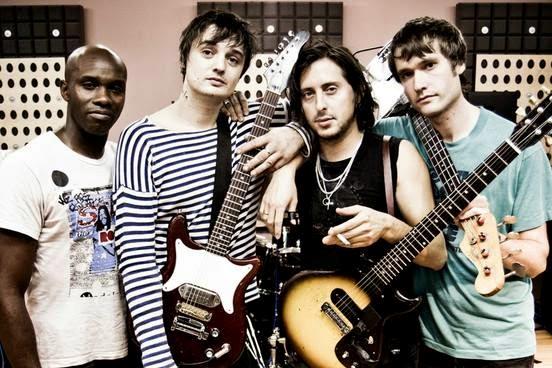 È stata una lunga attesa, ma i stanno finalmente per tornare dopo che e Carl Barât hanno messo da parte rispettivamente i Babyshambles e i Dirty Pretty Things.
La reunion della band, prima nel 2010 e poi nel 2014, è diventata definitiva con la pubblicazione di un nuovo album intitolato "Anthems For Doomed Youth", che uscirà l'11 settembre via Harvest Records/Virgin EMI.
Si tratta del terzo disco in carriera dopo "Up the Bracket" del 2002 e "The Libertines" del 2004, che li aveva consacrati come la next big thing dell'indie rock inglese.
Poi il gruppo si era perso per strada a causa dei problemi di droga del frontman Pete Doherty, ma questo non vuol dire che i ragazzi hanno dimenticato come si suona e come si compone.
Basta ascoltare il nuovo singolo "Glasgow Coma Scale Blues": il ritmo spavaldo delle chitarre è accompagnato da un testo che sembra ripercorrere la travagliata storia dei Libertines quando dice "The only thing that kept us apart/ Was your cold, unloving heart/ Your cold, cold heart".
Ma è stato svelata anche la title track "Anthems For Doomed Youth", oltre al precedente singolo "Gunga Din" e a "Barbarians" suonata live a un concerto. A fondo pagina c'è la tracklist completa dell'album.
Ascolta Glasgow Coma Scale Blues
Ascolta Anthems For Doomed Youth
The Libertines - Anthem for Doomed Youth tracklist
Barbarians
Gunga Din
Fame and Fortune
Anthem for Doomed Youth
Heart of the Matter
Belly of the Beast
Iceman
You're My Waterloo
Fury of Chonburi
The Milkman's Horse
Glasgow Coma Scale Blues
Dead for Love
Love on the Dole
Bucket Shop
Lust of the Libertines
7 Deadly Sins
Ti potrebbe interessare anche:
Iscriviti alla newsletter di AllSongs
Riceverai i nostri aggiornamenti anche via email, è semplicissimo!

Iscrivendoti acconsenti alle condizioni d'uso di AllSongs