Concerti
Black Sabbath, tour d'addio: la setlist del primo concerto
Il tour d'addio dei Black Sabbath è partito ufficialmente da Omaha: la storia sta volgendo al termine ma la leggenda sarà tramandata di generazione in generazione.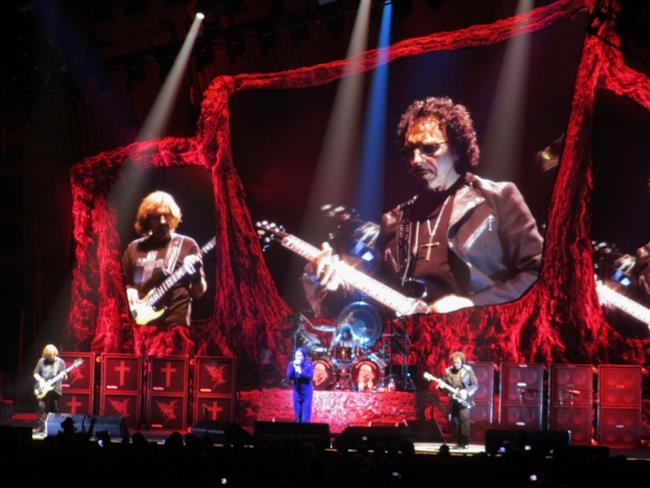 Il conto alla rovescia è partito: il 20 gennaio i Black Sabbath hanno suonato il primo concerto del "The End Tour" a Omaha, nel Nebraska. C'era grande curiosità per la scaletta, 14 pezzi che non dovrebbe scontentare nessuno dei fan della band:
Black Sabbath
Fairies Wear Boots
Tomorrow's Dream
Into The Void
Snowblind
War Pigs
Behind The Wall Of Sleep
N.I.B.
Hand Of Doom
Rat Salad
Iron Man
Children Of The Grave
Dirty Women
Paranoid
Stando a quanto si legge su Omaha.com, la performance dei , o meglio, di , non è stata delle migliori. L'autore dell'articolo scrive che la voce del madman non era eccezionale, a tratti piatta, a volte stonata... non sempre prendeva tutte le note. Insomma l'Ozzy che conosciamo tutti.
Con il concerto di Omaha è partita ufficialmente la vendita di "The End", un CD contenente 4 brani incisi durante la recording session di "13" ma non inclusi nell'album e 4 canzoni live registrate nel precedente reunion tour. L'album può essere acquistato soltanto sul luogo del concerto, questa è la tracklist:
Season Of The Dead
Cry All Night
Take Me Home
Isolated Man
God Is Dead? (Live Sydney, Australia 4/27/13)
Under The Sun (Live Auckland, New Zealand 4/20/13)
End Of The Beginning (Live Hamilton, ON Canada 4/11/14)
Age Of Reason (Live Hamilton, ON Canada 4/11/14)
Per comprare il CD, i fan italiani dovranno attendere il 13 giugno, quando i Black Sabbath si esibiranno all'Arena di Verona.
Ti potrebbe interessare anche:
Iscriviti alla newsletter di AllSongs
Riceverai i nostri aggiornamenti anche via email, è semplicissimo!

Iscrivendoti acconsenti alle condizioni d'uso di AllSongs