News & Gossip
Classifiche musicali 2011: in Usa spopolano Adele e Katy Perry
Le classifiche musicali americane del 2011 incoronano due regine: Katy Perry e Adele. Ecco i dati in dettaglio.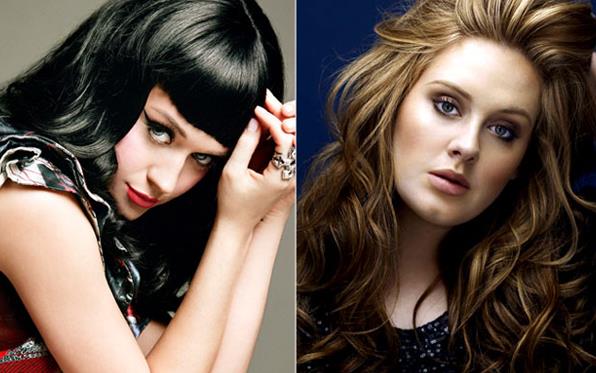 Le classifiche musicali 2011 in Usa hanno due sole regine: Adele e Katy Perry. I dati dei singoli e album più venduti rilasciati da Nielsen e Billboard, infatti, parlano chiaro.
In questa prima metà dell'anno esaminata dai report diffusi recentemente - che considerano un periodo fino al 3 luglio - il disco che ha venduto di più è "21" della bizzara ma enormemente talentuosa Adele: 2.517.000 sono le copie vendute. Solo al secondo posto la chiacchieratissima Lady Gaga con il suo altrettanto discusso "Born this way" e 1.540.000 copie vendute.
Terza piazza per i Mumford & Sons con "Sigh no more" (982mila copie) e quarto per Jason Aldean con il suo "My kinda party" (763mila copie). Il sesto posto a sopresa è di Bruno Mars e il suo disco di debutto "Doo Wops & Hooligans" (682mila copie).
Più staccato, invece, il gruppone delle reginette del pop attuale: Katy Perry, Rihanna e Britney Spears, sono rispettivamente al decimo, undicesimo e dodicesimo posto con i loro ultimi album.
A livello di singoli, invece, la situazione si ribalta: prima è Katy Perry con il suo brano E.T. e le sue 4.120.000 copie digitali. Ancora Adele si piazza al secondo posto con la sua bellissima Rolling in the deep (4.089.000 copie), mentre al terzo troviamo Cee Lo Green con il pezzo Fuck you (forget you) e le 3.229.000 copie vendute.
Grande esclusa Lady Gaga con Born this way solo al quarto posto, mentre Rihanna si piazza alla quinta piazza con la provocatoria S&M. Nella top ten è da segnalare anche il sesto posto del tormento On the floor di Jennifer Lopez, il settimo posto dei Black Eyed Peas con I just can't get enough, Bruno Mars in nona posizione con Grenade e ancora Katy Perry al decimo posto con Firework.
Ecco la classifica degli album più venduti in questa prima metà del 2011 secondo Billboard e Nielsen:
1 Adele - 21 (2,517,000)
2 Lady Gaga - Born This Way (1,540,000)
3 Mumford & Sons - Sigh No More (982,000)
4 Jason Aldean - My Kinda Party (763,000)
5 Bruno Mars - Doo Wops & Hooligans (686,000)
6 Justin Bieber - Never Say Never: The Remixes (EP) (676,000)
7 Chris Brown - F.A.M.E. (646,000)
8 Various Artists Now 37 (637,000)
9 Nicki Minaj - Pink Friday (609,000)
10 Katy Perry - Teenage Dream (600,000)
11 Rihanna - Loud (598,000)
12 Britney Spears - Femme Fatale (590,000)
13 Taylor Swift - Speak Now (563,000)
14 P!nk - Greatest Hits (530,000)
15 Justin Bieber - My World 2.0 (524,000)
16 Eminem - Recovery (517,000)
17 Foo Fighters - Wasting Light (479,000)
18 Wiz Khalifa - Rolling Papers (484,000)
19 Lady Antebellum - Need You Now (473,000)
20 Various Now 38 (440,000)
Questa invece è la classifica dei singoli più venduti in Usa fino al 3 luglio 2011:
1 Katy Perry feat. Kanye West - E.T. (4,120,000)
2 Adele - Rolling in the Deep (4,089,000)
3 Cee Lo Green - F**k You (Forget You) (3,229,000)
4 Lady Gaga - Born This Way (2,669,000)
5 Rihanna - S&M (2,734,000)
6 Jennifer Lopez feat. Pitbull - On the Floor (2,669,000)
7 The Black Eyed Peas - Just Can't Get Enough (2,462,000)
8 Chris Brown feat. Lil Wayne & Busta Rhymes - Look at Me Now (2,442,000)
9 Bruno Mars - Grenade (2,355,000)
10 Katy Perry - Firework (2,283,000)
11 Pitbull feat. Ne-Yo, Afrojack & Nayer - Give Me Everything (2,232,000)
12 P!nk - F**kin' Perfect (2,188,000)
13 Ke$ha - Blow (2,159,000)
14 Dr. Dre feat. Eminem & Skylar Grey - I Need a Doctor (2,071,000)
15 Bruno Mars - The Lazy Song (2,064,000)
16 Lupe Fiasco - The Show Goes On (2,052,000)
17 Jeremih feat. 50 Cent - Down On Me (2,042,000)
18 Britney Spears - Till the World Ends (1,989,000)
19 Wiz Khalifa - Black and Yellow (1,959,000)
20 LMFAO feat. Lauren Bennett & GoonRock - Party Rock Anthem (1,806,000)
Iscriviti alla newsletter di AllSongs
Riceverai i nostri aggiornamenti anche via email, è semplicissimo!

Iscrivendoti acconsenti alle condizioni d'uso di AllSongs