News & Gossip
Le 20 canzoni più citate nei libri: che noia, vincono sempre i Beatles!
'Hey Jude' vince il premio come canzone più citata in letteratura, ma in realtà i Beatles dominano l'intera classifica. Per fortuna c'è anche qualche sorpresa!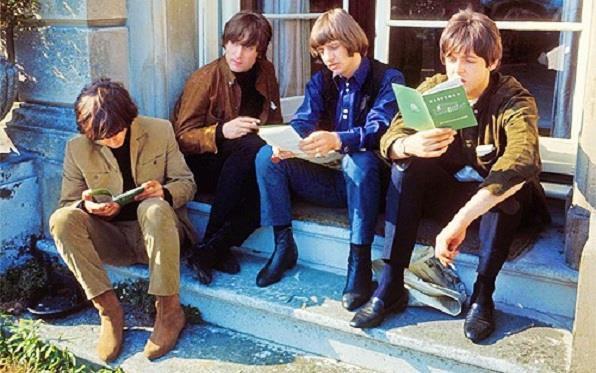 I Beatles seduti a leggere (foto in alto) si sarebbero mai immaginati di vincere anche la classifica delle canzoni più citate nei libri? Probabilmente no, però a distanza di qualche giorno, dopo aver parlato dei cantanti scrittori, ci fa piacere sull'argomento musica e letteratura.
A stilare l'originale elenco ci ha pensato il sito Small Demons, che ha messo al primo posto 'Hey Jude'. Il brano dei Fab Four, infatti, comparirebbe in almeno 55 opere di scrittori vari, che vanno da Stephen King (I lupi del Calla) a John Updike (Fratello cicala).
Ma i Beatles non solo vincono, ma piazzano anche altri quattro brani nelle prime 20 posizioni, con 'Lucy In The Sky With Diamonds' al numero 7, 'Eleanor Rigby' al numero 8, 'I Want To Hold Your Hand' al 15 e 'Sgt. Pepper's Lonely Hearts Club' al 16.
Al secondo posto troviamo 'Heartbreak Hotel' di Elvis Presley, seguita da 'Stairway To Heaven' dei Led Zeppelin, mentre a chiudere la top 5 ci sono prima 'We Are The World' (il brano a scopo benefico di USA For Africa scritto da Michael Jackson e Lionel Richie) e poi 'Dancing Queen' degli Abba.
Di seguito la classifica completa delle 20 canzoni più citate nei libri:
Beatles – 'Hey Jude'
Elvis Presley – 'Heartbreak Hotel'
Led Zeppelin – 'Stairway To Heaven'
USA For Africa – 'We Are The World'
ABBA – 'Dancing Queen'
Carl Perkins – 'Blue Suede Shoes'
Beatles – 'Lucy In The Sky With Diamonds'
Beatles – 'Eleanor Rigby'
Nirvana – 'Smells Like Teen Spirit'
Queen – 'Bohemian Rhapsody'
Los Del Rio – 'The Macarena'
Michael Jackson – 'Beat it'
Creedence Clearwater Revival – 'Proud Mary'
OneRepublic – 'Apologize'
Beatles – 'I Want To Hold Your Hand'
Beatles – 'Sgt Pepper's Lonely Hearts Club'
'Lili Marleen' (versione di Lale Andersen)
Michael Jackson – 'Beat It'
Bob Dylan – 'Like A Rolling Stone'
Rolling Stones – '(I Can't Get No) Satisfaction'
Iscriviti alla newsletter di AllSongs
Riceverai i nostri aggiornamenti anche via email, è semplicissimo!

Iscrivendoti acconsenti alle condizioni d'uso di AllSongs