News & Gossip
One Direction, Hayley Williams li accusa di plagio per Steal My Girl
La cantante dei Paramore ha fatto notare che l'intro di "Steal My Girl" è molto simile a quella di "It's Not Your Fault" dei New Found Glory, canzone del 2006.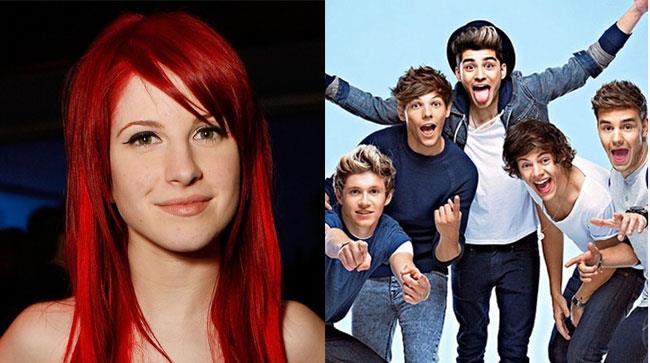 "Steal My Girl" è un plagio? Secondo Hayley Williams sembrerebbe proprio di sì.
La cantante dei infatti sostiene che l'ultimo singolo dei somiglia troppo a un brano pubblicato nel 2006, cioè "It's Not Your Fault" dei .
Leggi anche: Il nuovo video di You & I dei One Direction potrebbe essere stato copiato
La rocker ha posto in evidenza la questione con un messaggio su Twitter: "L'inizio della nuova canzone dei One Direction non potrebbe essere più simile all'inizio di It's Not Your Fault dei New Found Glory ma...":
Beginning of that new 1D song couldn't sound any more like the beginning of @newfoundglory's "its not your fault" but pic.twitter.com/UFlFjImxrK

— hayley from Paramore (@yelyahwilliams) September 29, 2014
La frase è stata ironicamente conclusa con una foto di Kermit dei Muppett. l'immagine è un famoso meme usato per dire "That's none of my business", cioè "Non è affar mio".
Leggi anche: One Direction, Steal My Girl è il primo singolo estratto da Four
Al momento non c'è stata nessuna risposta da parte dei diretti interessati.
Non è la prima volta che i 1D vengono accusati di plagio: l'intro di 'Live While We're Young" era stata paragonata a "Should I Stay Or Should I" dei e quella di "Best Song Ever" a "Baba O'Riley" dei .
Qui sotto potete ascoltare entrambe le canzoni: sono davvero così simili?
Guarda il video di It's Not Your Fault
Guarda il video di Steal My Girl
Ti potrebbe interessare anche:
Iscriviti alla newsletter di AllSongs
Riceverai i nostri aggiornamenti anche via email, è semplicissimo!

Iscrivendoti acconsenti alle condizioni d'uso di AllSongs