News & Gossip
Queen: A Night at the Odeon – Hammersmith arriva nei negozi
Il concerto trasmesso dalla BBC in diretta TV la sera della vigilia di Natale del 1975 sarà in vendita da novembre con alcuni contenuti inediti. Scopri la tracklist e il trailer.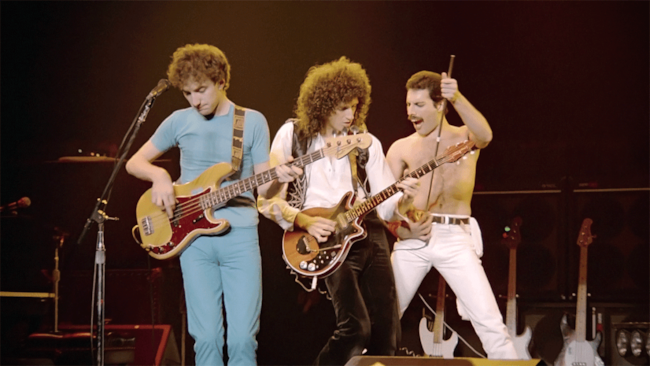 Sarà disponibile nei negozi dal 20 novembre il film-concerto "A night at the Odeon - Hammersmith 1975" dei . Uscirà nei formati CD, DVD, Blu-Ray, doppio vinile e super box set. Il documentario mostrerà la band guidata da impegnata nel concerto finale del tour "Queen invite you to a night at the opera", serata che venne trasmessa in diretta TV dalla BBC la sera della vigilia di Natale del 1975 e famosa per aver ospitato una delle prime esibizioni dal vivo di Bohemian Rhapsody.
Le versione DVD e Blu-Ray avranno dei contenuti extra come il documentario di venti minuti "Looking back at the Odeon" con interviste a Bryan May e a Roger Taylor, e il "Live at the Budokan" contenente tre brani (Now I'm Here, Killer Queen e In the lap of the gods) eseguiti nella tappa giapponese del tour del 1975.
La band ha reso disponibile il trailer del concerto all'Odeon - Hammersmith, che puoi vedere qui:
Proprio Bryan May, storico chitarrista della band, ha commentato la pubblicazione di questo live:
Questo concerto è stato veramente speciale perché fu la prima volta che suonammo completamente in diretta televisiva, nello show natalizio. La qualità, dopo un gran lavoro di ricerca e trasferimento in digitale, è fantastica. E l'energia arriva ancora veramente forte.
Qui invece puoi leggere la scaletta del concerto:
Now I'm Here
Ogre Battle
White Queen (As It Began)
Bohemian Rhapsody
Killer Queen
The March Of The Black Queen
Bohemian Rhapsody (Reprise)
Bring Back The Leroy Brown
Brighton Rock
Guitar Solo
Son And Daughter
Keep Yourself Alive
Liar
In The Lap Of The Gods...Revisited
Big Spender
Jailhouse Rock Medley
Seven Seas Of Rhye
See What A Fool I've Been
God Save The Queen
Ti potrebbe interessare anche:
Iscriviti alla newsletter di AllSongs
Riceverai i nostri aggiornamenti anche via email, è semplicissimo!

Iscrivendoti acconsenti alle condizioni d'uso di AllSongs