Nuove Uscite
Dream Theater: la copertina di The Astonishing
Cresce l'attesa per The Astonishing, il nuovo e ambizioso concept album dei Dream Theater, in uscita a inizio del 2016. La prog band ha svelato ai fan la copertina.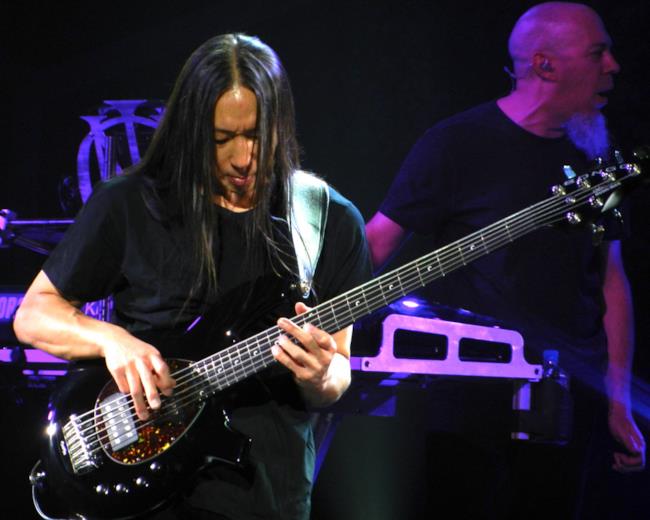 I Dream Theater hanno finalmente svelato la copertina del nuovo concept album "The Astonishing", registrato presso i Cove City Studios di New York e in uscita a inizio 2016. I stanno rivelando i dettagli del nuovo disco un po' per volta. Come ammesso dalla band stessa, si tratta del lavoro più ambizioso della loro carriera.
"The Astonishing" si compone di 34 tracce, divise in due atti. Questa è la tracklist:
Act I
Descent of the NOMACS
Dystopian Overture
The Gift of Music
The Answer
A Better Life
Lord Nafaryus
A Savior in the Square
When Your Time Has Come
Act of Faythe
Three Days
The Hovering Sojourn
Brother, Can You Hear Me?
A Life Left Behind
Ravenskill
Chosen
A Tempting Offer
Digital Discord
The X Aspect
A New Beginning
The Road to Revolution
Act II
2285 Entr'acte
Moment of Betrayal
Heaven's Cove
Begin Again
The Path That Divides
Machine Chatter
The Walking Shadow
My Last Farewell
Losing Faythe
Whispers on the Wind
Hymn of a Thousand Voices
Our New World
Power Down
Astonishing
Il tour europeo dei Dream Theater inizierà a febbraio. La band si esibirà nei teatri e proporrà uno spettacolo di tre ore durante le quali eseguirà per intero "The Astonishing". Per quanto riguarda i concerti in Italia, sono ben tre gli appuntamenti al Teatro degli Arcimboldi di Milano, il 17, 18 e 19 marzo.
Queste le info e i prezzi dei biglietti:
Apertura porte: ore 19.30
Inizio concerto: ore 20.30
Prezzo dei biglietti in prevendita: a partire da €45,00+d.p.
Dream Theater - Date e biglietti
Evento
Località
Data
Prezzo
Dream Theater
Brescia Piazza della Loggia
46,00 €
Compra
Dream Theater
Grugliasco GruVillage (presso area eventi esterna Shopville Le Gru)
46,00 €
Compra
Dream Theater
Pescara Stadio Adriano Flacco
57,50 €
Compra
Dream Theater
Barletta Fossato del Castello
46,00 €
Compra
Dream Theater
Roma Auditorium Parco della Musica - Cavea
74,75 €
Compra
Dream Theater
Roma Auditorium Parco della Musica - Cavea
51,75 €
Compra
Dream Theater
Milano Teatro degli Arcimboldi
-
Compra
Dream Theater
Milano Teatro degli Arcimboldi
51,75 €
Compra
Dream Theater
Milano Teatro degli Arcimboldi
86,25 €
Compra
Dream Theater
Trieste Politeama Rossetti - Sala Assicurazioni Generali
86,25 €
Compra
Dream Theater
Roma Auditorium Parco della Musica - Sala Santa Cecilia
51,75 €
Compra
Dream Theater
Roma Auditorium Parco della Musica - Sala Santa Cecilia
51,75 €
Compra
Dream Theater
Padova Gran Teatro Geox
86,50 €
Compra
Dream Theater
Assago Mediolanum Forum
51,75 €
Compra
Dream Theater
Roma Auditorium Parco della Musica - Sala Santa Cecilia
51,75 €
Compra
Dream Theater
Firenze Teatro Verdi
86,25 €
Compra
Dream Theater
Lignano Sabbiadoro Arena Alpe Adria
86,25 €
Compra
Dream Theater
Torino Auditorium del Lingotto G. Agnelli
86,25 €
Compra
Dream Theater
Villafranca Di Verona Castello Scaligero
69,00 €
Compra
Dream Theater
Grugliasco GruVillage (presso Arena esterna Le Gru)
27,00 €
Compra
Dream Theater
Taormina Teatro Antico
-
Compra
Ti potrebbe interessare anche:
Iscriviti alla newsletter di AllSongs
Riceverai i nostri aggiornamenti anche via email, è semplicissimo!

Iscrivendoti acconsenti alle condizioni d'uso di AllSongs