Nuove Uscite
One Direction, Infinity è il nuovo singolo da Made in the A.M.
Con un post su Twitter, Liam Payne ha svelato ufficialmente il titolo del nuovo singolo degli 1D: si tratta di Infinity, che era uscito come brano promozionale.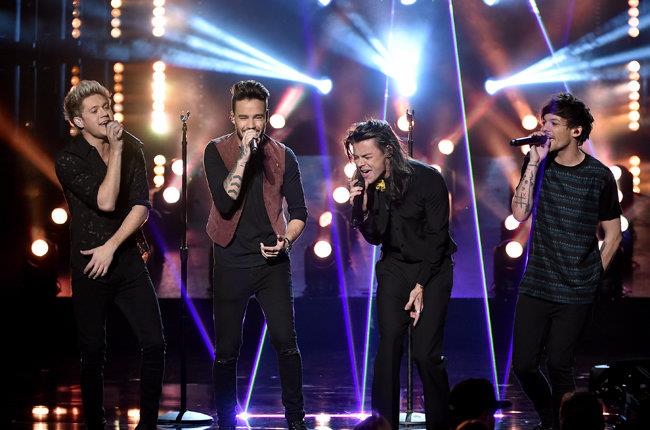 È ufficiale: Infinity è il prossimo singolo estratto da Made In The A.M., l'ultimo album degli che in Italia ha debuttato in vetta alla classifica FIMI dei dischi più venduti battendo anche Justin Bieber.
A dare la notizia la scorsa notte è stato Liam Payne su Twitter, con un messaggio rivolto ai suoi 21,4 milioni di followers che diceva semplicemente "Infinity è il prossimo singolo da #MadeInTheAM".
Infinity is the next single off #MadeInTheAM!

— Liam (@Real_Liam_Payne) November 26, 2015
Scritto da Jamie Scott, John Ryan e Julian Bunetta, Infinity è il terzo singolo di Made In The A.M. dopo Drag Me Down e Perfect, e molto probabilmente presto avrà anche un video.
Un primo assaggio di Infinity si era avuto lo scorso 22 settembre quando era stato rilasciato come brano promozionale con il pre-order del nuovo disco. La boyband l'ha eseguito per la prima volta dal vivo durante il BBC Live Lounge di inizio mese.
Guarda il video qui sotto, a seguire il testo della canzone.
One Direction - Infinity lyrics
Down to earth
Keep 'em falling when I know it hurts
Going faster than a million miles an hour
Trying to catch my breath some way, somehow
Down to earth
It's like I'm frozen, but the world still turns
Stuck in motion, and the wheels keep spinning 'round
Moving in reverse with no way out

And now I'm one step closer to being
Two steps far from you
When everybody wants you
Everybody wants you

How many nights does it take to count the stars?
That's the time it would take to fix my heart
Oh baby, I was there for you
All I ever wanted was the truth, yeah, yeah
How many nights have you wished someone would stay?
Lie awake, only hoping they're okay
I never counted all of mine
If I tried, I know it would feel like infinity
Infinity, infinity
Yeah, infinity

Eyes can't shine
Unless there's something burning bright behind
Since you went away, there's nothing left in mine
I feel myself running out of time

And now I'm one step closer to being
Two steps far from you
When everybody wants you
Everybody wants you

How many nights does it take to count the stars?
That's the time it would take to fix my heart
Oh baby, I was there for you
All I ever wanted was the truth, yeah, yeah
How many nights have you wished someone would stay?
Lie awake, only hoping they're okay
I never counted all of mine
If I tried, I know it would feel like infinity
Infinity, infinity
Yeah, infinity

Infinity, infinity

How many nights does it take to count the stars?
That's the time it would take to fix my heart
Oh baby, I was there for you
All I ever wanted was the truth, yeah, yeah
How many nights have you wished someone would stay?
Lie awake, only hoping they're okay
I never counted all of mine
If I tried, I know it would feel like infinity
Infinity, infinity
Yeah, infinity
Ti potrebbe interessare anche:
Iscriviti alla newsletter di AllSongs
Riceverai i nostri aggiornamenti anche via email, è semplicissimo!

Iscrivendoti acconsenti alle condizioni d'uso di AllSongs