News & Gossip
Slayer tra i protagonisti di un documentario dello Smithsonian
Gli Slayer sono finiti in un museo. Lo Smithsonian Institute ha inserito la band di Tom Araya e Kerry King in un video documentario come massimi esponenti della scena thrash.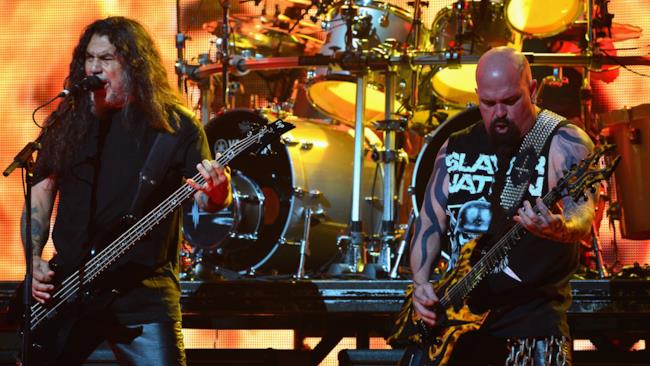 Gli un pezzo da museo? Qualcuno potrebbe fare facile ironia ma la band di Tom Araya e Kerry King è viva e vegeta. Tuttavia gli Slayer in un museo ci sono finiti per davvero e non uno qualsiasi: lo Smithsonian (avete presente quello dove lavora Bones?).
Lo Smithsonian ha realizzato un documentario al National Museum of History dal titolo "Place of Musical Innovation". All'interno del video c'è una clip di 6 minuti dal titolo "Slayer and the Origins of Thrash". Gli Slayer sono tra gli esponenti più rappresentativi della scena trash che ha iniziato a muovere i suoi primi passi nei primissimi anni '80.
L'11 settembre uscirà "Repentless", il nuovo album degli Slayer pubblicato dalla Nuclear Blast. Si tratta del primo album della band senza Jeff Hanneman, morto nel 2013. La band suonerà all'Alcatraz di Milano il 5 novembre.
Slayer + Anthrax - Date e biglietti
Evento
Località
Data
Prezzo
Slayer + Anthrax
Trezzo Sull'Adda Live Club
€ 34,50
Compra
Slayer + Anthrax
Bologna Estragon
€ 28,75
Compra
Ti potrebbe interessare anche:
Iscriviti alla newsletter di AllSongs
Riceverai i nostri aggiornamenti anche via email, è semplicissimo!

Iscrivendoti acconsenti alle condizioni d'uso di AllSongs