News & Gossip
Taylor Swift, Ed Sheeran e Beyoncé guidano le nomination agli MTV VMA 2015
Scopri tutte le nomination degli MTV Video Music Awards 2015: si tratta di un vero trionfo per Taylor Swift, Ed Sheeran e Beyoncé, grande assente Madonna.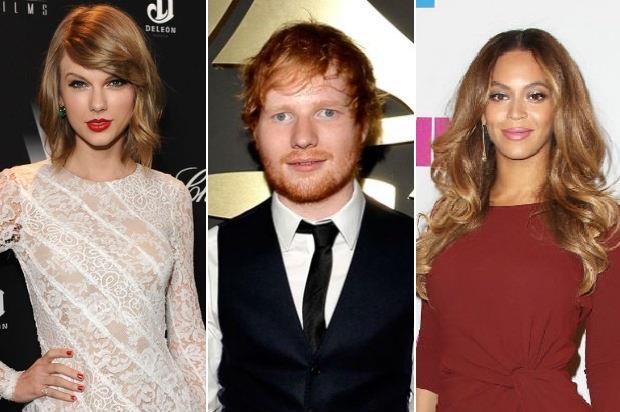 Signore e signori, rullo di tamburi per favore, è finalmente arrivato l'elenco delle nomination agli MTV Video Music Awards 2015, che quest'anno saranno presentati da Miley Cyrus.
La prima della classe èTaylor Swift, che ha ottenuto ben 9 candidature tra cui Best Female Video e Best Pop Video per "Blank Space" e Video Of The Year per "Bad Blood".
Per il video dell'anno la bionda popstar se la dovrà vedere con l'amico Ed Sheeran ("Thinking Out Loud"), Beyoncé ("7/11"), Bruno Mars e Mark Ronson ("Uptown Funk") e Kendrick Lamar ("Alright").
La grande assente è sicuramente Madonna: i tre video dell'era Rebel Heart - "Living For Love", "Ghosttown" e "Bitch I'm Madonna" - non sono stati presi in minima considerazione.
Di seguito tutte le nomination divise in categorie degli MTV VMA 2015.
VIDEO OF THE YEAR
Beyoncé – "7/11"
Ed Sheeran – "Thinking Out Loud"
Taylor Swift ft. Kendrick Lamar – "Bad Blood"
Mark Ronson ft. Bruno Mars – "Uptown Funk"
Kendrick Lamar – "Alright"
BEST MALE VIDEO
Ed Sheeran – "Thinking Out Loud"
Mark Ronson ft. Bruno Mars – "Uptown Funk"
Kendrick Lamar – "Alright"
The Weeknd – "Earned It"
Nick Jonas – "Chains"
BEST FEMALE VIDEO
Beyoncé – "7/11"
Taylor Swift – "Blank Space"
Nicki Minaj – "Anaconda"
Sia – "Elastic Heart"
Ellie Goulding – "Love Me Like You Do"
BEST HIP HOP VIDEO
Fetty Wap – "Trap Queen"
Nicki Minaj – "Anaconda"
Kendrick Lamar – "Alright"
Wiz Khalifa ft. Charlie Puth – "See You Again"
Big Sean ft. E-40 – "IDFWU"
BEST POP VIDEO
Beyoncé – "7/11"
Ed Sheeran – "Thinking Out Loud"
Taylor Swift – "Blank Space"
Mark Ronson ft. Bruno Mars – "Uptown Funk"
Maroon 5 – "Sugar"
BEST ROCK VIDEO
Hozier – "Take Me To Church"
Fall Out Boy – "Uma Thurman"
Florence + the Machine – "Ship To Wreck"
Walk the Moon – "Shut Up and Dance"
Arctic Monkeys – "Why'd You Only Call Me When You're High?"
ARTIST TO WATCH presented by Taco Bell®
Fetty Wap – "Trap Queen"
Vance Joy – "Riptide"
George Ezra – "Budapest"
James Bay – "Hold Back The River"
FKA Twigs – "Pendulum"
BEST COLLABORATION
Taylor Swift ft. Kendrick Lamar – "Bad Blood"
Mark Ronson ft. Bruno Mars – "Uptown Funk"
Wiz Khalifa ft. Charlie Puth – "See You Again"
Ariana Grande & The Weeknd – "Love Me Harder"
Jessie J, Ariana Grande, Nicki Minaj – "Bang Bang"
VIDEO WITH A SOCIAL MESSAGE
Jennifer Hudson – "I Still Love You"
Colbie Caillat – "Try"
Big Sean ft. Kanye West and John Legend – "One Man Can Change the World"
Rihanna – "American Oxygen"
Wale – "The White Shoes"
BEST ART DIRECTION
Taylor Swift ft. Kendrick Lamar – "Bad Blood" (Charles Infante)
Snoop Dogg – "So Many Pros" (Jason Fijal)
Jack White – "Would You Fight For My Love" (Jeff Peterson)
The Chemical Brothers – "Go" (Michel Gondry)
Skrillex & Diplo – "Where Are U Now" with Justin Bieber (Brewer)
BEST CHOREOGRAPHY
Beyoncé – "7/11" (Beyoncé, Chris Grant, Additional choreography: Gabriel Valenciano)
OK Go – "I Won't Let You Down" (OK Go, air:man and Mori Harano)
Chet Faker – "Gold" (Ryan Heffington)
Ed Sheeran – "Don't" (Nappy Tabs)
Flying Lotus ft. Kendrick Lamar – "Never Catch Me" (Keone and Mari Madrid)
BEST CINEMATOGRAPHY
Flying Lotus ft. Kendrick Lamar – "Never Catch Me" (Larkin Sieple)
Ed Sheeran – "Thinking Out Loud" (Daniel Pearl)
Taylor Swift ft. Kendrick Lamar – "Bad Blood" (Christopher Probst)
FKA Twigs – "Two Weeks" (Justin Brown)
Alt-J – "Left Hand Free" (Mike Simpson)
BEST DIRECTION
Taylor Swift ft. Kendrick Lamar – "Bad Blood" (Joseph Kahn)
Mark Ronson ft. Bruno Mars – "Uptown Funk" (Bruno Mars and Cameron Duddy)
Kendrick Lamar – "Alright" (Colin Tilley & The Little Homies)
Hozier – "Take Me To Church" (Brendan Canty, Conal Thomson)
Childish Gambino – "Sober" (Hiro Murai)
BEST EDITING
Beyoncé – "7/11" (Beyoncé, Ed Burke, Jonathan Wing)
Ed Sheeran – "Don't" (Jacquelyn London)
Taylor Swift ft. Kendrick Lamar – "Bad Blood" (Chancler Haynes at Cosmo Street)
A$AP Rocky – "L$D" (Dexter Navy)
Skrillex & Diplo – "Where Are U Now" with Justin Bieber (Brewer)
BEST VISUAL EFFECTS
Taylor Swift ft. Kendrick Lamar – "Bad Blood" (Ingenuity Studios)
FKA Twigs – "Two Weeks" (Gloria FX, Tomash Kuzmytskyi, and Max Chyzhevskyy)
Childish Gambino – "Telegraph Ave." (Gloria FX)
Skrillex & Diplo – "Where Are U Now" with Justin Bieber (Brewer)
Tyler, The Creator – "F****** Young/Death Camp" (Gloria FX)
Iscriviti alla newsletter di AllSongs
Riceverai i nostri aggiornamenti anche via email, è semplicissimo!

Iscrivendoti acconsenti alle condizioni d'uso di AllSongs