Classifica FIMI Italia 22 ottobre 2015: primi Fedez e Baby K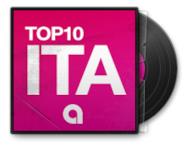 Fedez torna primo nella classifica FIMI italiana del 22 ottobre 2015, grazie al suo album deluxe. Fra i singoli è ancora dominio Roma-Bangkok: scopri tutto!
La classifica FIMI dei dischi più venduti in Italia dal 9 al 15 ottobre 2015 vede Fedez in vetta con il suo "Pop-Hoolista Coso Dipinto Edition", edizione deluxe del suo ultimo album con l'aggiunta dei due inediti d'eccezione 21 grammi e Beautiful Disaster feat. Mika.
Al secondo posto troviamo i giovanissimi youtubers Benji & Fede con il loro primo disco "20:05", mentre Il Volo con "L'amore si muove" occupano il terzo gradino del podio.
"La rivoluzione sta arrivando" dei Negramaro, "I Hate Music" di Michele Bravi e "Rattle That Lock" dell'ex Pink Floyd David Gilmour si piazzano al quarto, quinto e sesto posto.
"Pop-Up" di Luca Carboni è settimo anche grazie al discreto successo del singolo Luca lo stesso, mentre Selena Gomez piazza una new entry direttamente all'ottavo posto con "Revival".
A chiudere la classifica di questa settimana di pensano due pezzi da novanta della musica italiana, ovvero Tiziano Ferro con "TZN - The Best of Tiziano Ferro" e Jovanotti con "Lorenzo 2015 cc".
Classifica FIMI album più venduti in Italia (9 ottobre - 15 ottobre 2015)
Pop-Hoolista - Fedez
20:05 - Benji & Fede
L'amore si muove - Il Volo
La rivoluzione sta arrivando - Negramaro
I Hate Music - Michele Bravi
Rattle That Lock - David Gilmour
Pop-Up - Luca Carboni
Revival - Selena Gomez
TZN The Best of Tiziano Ferro - Tiziano Ferro
Lorenzo 2015 cc - Jovanotti
Nella classifica dei singoli più ascoltati e scaricati Roma-Bangkok di Baby K feat. Giusy Ferreri è ancora prima, What Do You Mean? di Justin Bieber è seconda e Sugar di Robin Schulz feat. Francesco Yates è al terzo posto.
Al quarto posto sale 21 grammi di Fedez, con un +2 dalla settimana scorsa, mentre El Perdón di Nicky Jam scende di una posizione, al quinto posto. Il tormentone Marvin Gaye di Charlie Puth e Meghan Trainor piazza un +1 e si posiziona al sesto gradino della chart.
In settima posizione c'è l'unica new entry della settimana, ovvero il duetto di Fedez e Mika in Beautiful Disaster. Fanalini di coda sono gli X Ambassadors con Renegades, i Major Lazer - appena passati in Italia - con la hit mondiale Lean On" e How Deep Is Your Love di Calvin Harris & Disciples.
Classifica FIMI singoli più scaricati e ascoltati in Italia (9 ottobre - 15 ottobre 2015)
Roma-Bangkok - Baby K feat. Giusy Ferreri
What Do You Mean? - Justin Bieber
Sugar - Robin Schulz feat. Francesco Yates
21 grammi - Fedez
El Perdón - Nicky Jam & Enrique Iglesias
Marvin Gaye - Charlie Puth feat. Meghan Trainor
Renegades - X Ambassadors
Lean On - Major Lazer feat. DJ Snake & MO
How Deep Is Your Love - Calvin Harris & Disciples
Classifica FIMI Italia 22 ottobre 2015: primi Fedez e Baby K