Nuove Uscite
Little Mix, ascolta Grown dal nuovo album Get Weird
Si tratta dell'ultimo brano in anteprima per le Little Mix in attesa dell'uscita del disco, che arriverà il prossimo 6 novembre via Syco/Columbia Records.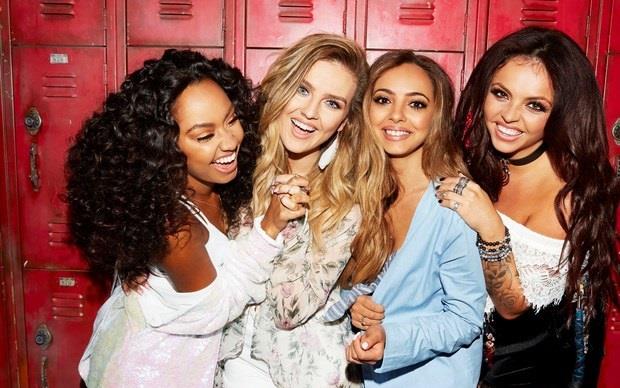 Grown è l'ultimo promotional single dell'era Get Weird, che uscirà nei negozi il prossimo 6 novembre. Dopo l'anteprima di ieri su Instagram, oggi è arrivata la versione completa della canzone ed è già disponibile in streaming su Spotify e iTunes.
In realtà il brano l'avevamo già ascoltato in versione live all' dello scorso settembre, questa invece è la versione in studio. E si conferma la sensazione che Grown potrebbe essere una futura hit.
Sul miglior pezzo finora pubblicato dall'album Get Weird ci sono pareri discordanti: per il momento, oltre ai singoli Black Magic e Love Me Like You, le Mixers sono rimaste colpite sia da Lightning sia da OMG.
Oltre a Secret Love Song con il featuring di , Grown però è l'unica altra canzone che vede la collaborazione di una star internazionale del calibro di , questa volta nelle vesti di autrice.
E poi con un ritornello che recita "About time that I let you know / My ride and I assume control" per dire ai loro ex fidanzati che non sono più le ingenue ragazze di una volta - soprattutto Perrie dopo Zayn - come si fa a non amare questo brano?
Ascolta qui sotto Grown, a seguire il testo della canzone.
Little Mix - Grown lyrics
Hold up wait, you used to be a friend to me
Back then boy, you didn't even notice me
Why now, you trying to get a hold of me
We never even spoke so what makes you think you know me?

It's funny how the tables turn
I'm sitting back baby watching you burn
No regrets, it's a lesson learned
'Cause what you think ain't my concern

About time that I let you know
My right and I assume control
You blew it baby years ago
Can't get with me, now I'm grown

Grown now, grown now
Don't you know that I'm grown now, grown now
Don't you know that I can hold my own, boy you missed the boat
Can't get with me, now I'm grown

Your voice dropped, you thought that you could handle me
You claimed me, but now you trying to holla me
You're washed up and now I'm in a different league
Trying way too hard and I don't need your flattery

Now, it's funny how the tables turn
I'm sitting back baby watching you burn
No regrets it's a lesson learned
'Cause what you think ain't my concern

About time that I let you know
My right and I assume control
You blew it baby years ago
Can't get with me, now I'm grown

Grown now, grown now
Don't you know that I'm grown now, grown now
Don't you know that I can hold my own, boy you missed the boat
Can't get with me, now I'm grown

Hey!

You didn't want me it took too long
You didn't want me and now I'm gone
Oh what a shame baby now I'm grown

Grown now, grown now
Don't you know that I'm grown now, grown now
Don't you know that I can hold my own, boy you missed the boat
Can't get with me, now I'm grown

Grown now, grown now
Don't you know that I'm grown now, grown now
Don't you know that I can hold my own, boy you missed the boat
Can't get with me, now I'm grown
Ti potrebbe interessare anche:
Iscriviti alla newsletter di AllSongs
Riceverai i nostri aggiornamenti anche via email, è semplicissimo!

Iscrivendoti acconsenti alle condizioni d'uso di AllSongs