News & Gossip
5 Seconds of Summer, ecco il nuovo video per Hey Everybody!
I 5SOS hanno pubblicato il divertente videoclip di "Hey Everybody!", il nuovo singolo estratto dall'album di prossima uscita "Sounds Good, Feels Good".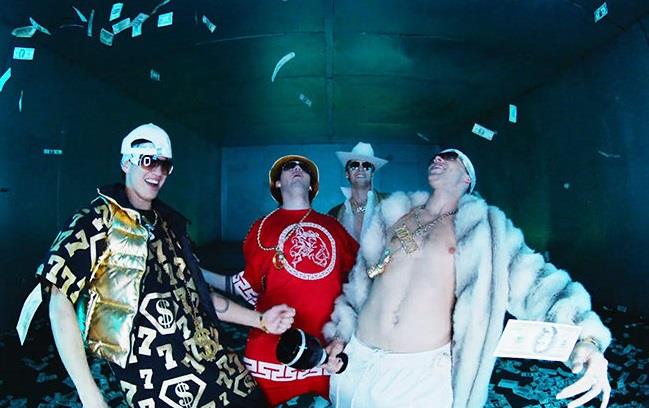 Venerdì scorso (16 ottobre) è arrivato su YouTube e VEVO il video ufficiale di "Hey Everybody!", in cui i rendono omaggio al pop-rock anni '80 - a qualcuno il pezzo ricorda "Hungry Like The Wolf" dei Duran Duran.
Si tratta del secondo singolo - dopo "She's Kinda Hot" - tratto dal loro nuovo album "Sounds Good, Feels Good" e invita tutti a non lasciarsi abbattere, anche se la vita che conduciamo non è quella che desideriamo.
Nel video di "Hey Everybody!", diretto da Isaac Rentz, i 5SOS sono dipinti come quattro ragazzi normali alle prese con qualche lavoretto estivo per arrotondare: Luke è uno stagista, Calum fa il dogsitter, Michael è un hot-dog man e Ashton è un animatore.
Ma tutti e quattro sognano un giorno di diventare ricchi, di ballare sotto montagne di dollari e di vivere in una villa gigantesca, con un giardino-labirinto dove giocare a rincorrersi come se fossero in un videogioco e con un ring dove combattere contro lottatori professionisti.
"Sounds Good, Feels Good" esce tra qualche giorno, il 23 ottobre, ma i 5 Seconds of Summer hanno già annunciato le prime date del Sounds Live Feels Live, il tour che nel 2016 li porterà in America del Nord, Gran Bretagna e Irlanda.
Guarda qui sotto il video di "Hey Everybody!", a seguire il testo della canzone.
5 Seconds of Summer - Hey Everybody! lyrics
Maxed out her credit cards cause she don't got a job
she pays for gas with all the change in her car
it's not the end of the world
yeah we've all been there before
and it goes oh oh ohoh oh ohoh oh oh

He's walking home cause he can't pay for the bus
he needs a dollar but he ain't got enough
it's not the end of the world
yeah we've all been there before
and it goes oh oh ohoh oh ohoh oh oh

Hey everybody
we don't have to live this way
we can all get some
yeah we can all get paid
so what'cha say everybody
gotta live it up today
we can all get some
yeah we can all get paid

Oh oh ohoh oh ohoh oh oh
oh oh ohoh oh ohoh oh oh

Don't have your rent and it's the first of the month
your bank account has got insufficient funds
we can't afford to give up
we gotta make out oh well
and it goes oh oh ohoh oh ohoh oh oh

Work every weekend just to get out of town
everyone says that you'll just turn back around
and it's ironic to me the ones that don't ever leave
think that they know oh ohoh oh ohoh oh oh

Hey everybody
we don't have to live this way
we can all get some
yeah we can all get paid
so what'cha say everybody
gotta live it up today
we can all get some
yeah we can all get paid

Oh oh ohoh oh ohoh oh oh
oh oh ohoh oh ohoh oh oh

Hey everybody
we don't have to live this way
we can all get some
yeah we can all get paid
so what'cha say everybody
gotta live it up today (today)
we can all get some
yeah we can all get paid

Hey (gotta live it up today)
oh oh
Ti potrebbe interessare anche:
Iscriviti alla newsletter di AllSongs
Riceverai i nostri aggiornamenti anche via email, è semplicissimo!

Iscrivendoti acconsenti alle condizioni d'uso di AllSongs