News & Gossip
Classifica USA 21 ottobre 2015, c'è il dominio degli artisti canadesi
"The Hills" di The Weeknd è ancora al numero uno, ma la presenza di quattro cantanti made in Canada nelle prime cinque posizioni è piuttosto imbarazzante.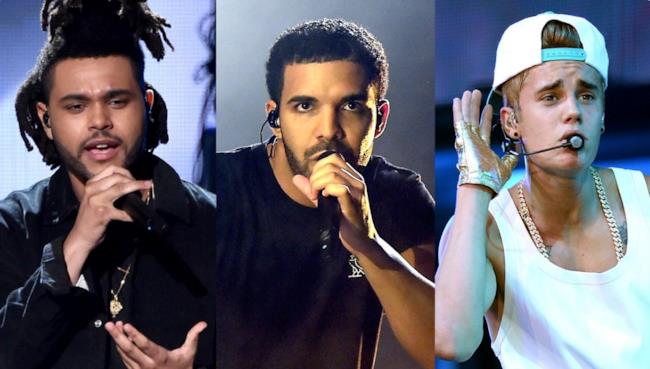 Nella Billboard Hot 100 di questa settimana non ci sono grandi novità: "The Hills" di The Weeknd, di cui sono arrivati i remix con Eminem e Nicki Minaj, si conferma per la quinta volta in vetta alla classifica dei singoli più venduti negli Stati Uniti.
Anche il resto del podio è identico a sette giorni fa: "Hotline Bling" di Drake e "What Do You Mean?" di Justin Bieber si aggiudicano rispettivamente la medaglia d'argento e quella di bronzo.
Ma grazie alla salita di "Stitches" di Shawn Mendes - se non lo conosci clicca qui - fa discutere la presenza di quattro artisti canadesi nella top 5. L'unica canzone made in the USA nelle prime cinque posizioni è infatti "679" di Fetty Wap feat. Remy Boyz.
Sale sul sesto gradino "Wildest Dreams" di Taylor Swift, che ruba il posto all'ex numero uno "Can't Feel My Face" di The Weeknd.
Chiudono la classifica Billboard dei singoli "Locked Away" di R. City feat. Adam Levine, "Watch Me" di Silentó e "Good For You" feat. A$AP Rocky.
Classifica canzoni Top 10 USA 21 ottobre 2015
The Hills - The Weeknd
Hotline Bling - Drake
What Do You Mean? - Justin Bieber
679 - Fetty Wap feat. Remy Boyz
Stitches - Shawn Mendes
Wildest Dreams - Taylor Swift
Can't Feel My Face - The Weeknd
Locked Away - R. City feat. Adam Levine
Watch Me - Silentó
Good For You - Selena Gomez feat. A$AP Rocky
Iscriviti alla newsletter di AllSongs
Riceverai i nostri aggiornamenti anche via email, è semplicissimo!

Iscrivendoti acconsenti alle condizioni d'uso di AllSongs